South Florida Symphony Orchestra's Summer Chamber Music Series – Mozart and Saint Saëns
Thursday, 07/20/2023-, 07:30 pm-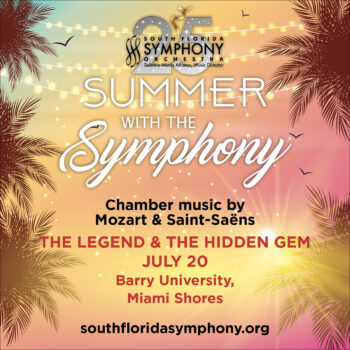 Barry University Shepard & Ruth K. Broad Performing Arts Center
11300 NE 2nd Avenue,
Miami Shores, Florida, 33161
Website
Cost: General admission tickets are $30; Student tickets are $15
South Florida Symphony Orchestra (SFSO) invites you to beat the heat by escaping into the enchanting, serene sounds of its Summer Chamber Music Series. Mozart and Saint Saëns will be featured on June 15 at Barry University Shepard & Ruth K. Broad Performing Arts Center. This series offers music lovers a chance to enjoy the classics in a more personal, intimate atmosphere.
Discover "The Legend and the Hidden Gem." Mozart's celebrated piano quartets are considered the first in the genre; not because they are historically the first, but because they are the first great ones. His Piano Quartet No. 2 in E flat major, K. 493 will be performed, along with Saint Saëns magnificent Piano Quartet in B flat major, Op. 41, the most treasured of his works, by Huifang Chen (violin), Felicia Besan (viola), Christopher Glansdorp (cello), and Catherine Lan (piano).
Coming off its highly acclaimed 25th anniversary season, SFSO offers passionate performances of classical masterpieces featuring award-winning musicians and illustrious guest artists. Its musical excellence has been recognized by numerous organizations and it was named Broward Center for the Performing Arts' first Partner in the Arts for its affiliated $30 million renovated venue, The Parker.
General admission tickets for each program are $30; student tickets are $15. Tickets are available to purchase by calling (954) 522-8445 or by visiting southfloridasymphony.org/summer-with-the-symphony.