SeaFair Miami Cruises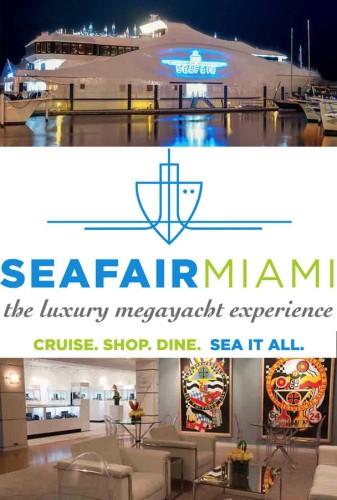 Daily excursions Tuesdays through Sundays
Open to the public at dock
100 Chopin Plaza
Bayfront Park South Dock
Downtown Miami, FL
Ticket prices vary: Make Reservations Online Tell them Soul Of Miami sent you!
Sunset and City Lights Cruises
It is no secret, Miami truly comes alive after dark, and our City Lights Cruise is the quintessential Miami experience.
Friday and Saturday nights, 9PM to 11PM
Gourmet buffet or ala carte menu available. Visit website for pricing and details.
Brunch and Bay Cruises
What better way to top off the perfect Miami weekend or holiday than with a sun soaked cruise, shopping and gourmet buffet brunch aboard a luxury megayacht?
Saturday and Sunday, Embark: 10:30 AM, Cruise: 11AM-2:30PM, Disembark: 3 PM, (2 Brunch seatings, 11-12:30 and 1-2:30)
Gourmet buffet brunch or ala carte menu available. Visit website for pricing and details.
Afternoon Bay Cruise
Sunday from 4 pm to 6 pm.
Cocktails will be served at three bars and a tapas menu is available on the Sky Deck. Visit website for pricing and details.
Seafair Miami Dockside
For the land lover, SeaFair Miami offers dockside hours at Chopin Plaza.
Tues – Fri: 5-7pm & 11pm-midnight | Sat: 3-7pm & 11pm-midnight | Sun: 3-6pm
SeaFair is docked at Bayfront Park's South Dock at Chopin Plaza next to the InterContinental Hotel in downtown Miami. Ample public parking is available within walking distance as well as free people mover access.
Cruise the crystal waters of Biscayne Bay on the $40 million MegaYacht for Dinner, Brunch, Holiday Celebrations, or just a lovely tour of the city lights.
SeaFair Art Galleries and Shoppes: While cruising browse the unique offerings of 20 art galleries and luxury boutiques. Local and internationally renowned artists, receptions, art performances and more. All on the MegaYacht Grand Luxe SeaFair.
Celebrate Miami: What better way to enjoy the Miami sunset than with cocktails on the Sky Deck followed by a gourmet dinner after dark watching the City Lights in the VIP restaurant? Enjoy family celebrations for Saturday and Sunday brunch on Miami's only MegaYacht.
SeaFair offers a Miami experience like no other combining the best of intracoastal cruising, unique boutiques, and sophisticated dining. It is a truly memorable once in a lifetime experience for visitors and the ultimate venue for special occasions.
This slideshow requires JavaScript.
SeaFair is the world's first mobile megayacht venue and one of the ten largest privately owned yachts in the United States. The $40 million custom-built yacht was designed by internationally acclaimed yacht designer Luiz De Basto. At 228 feet and 2,800 international tons, it is the largest ship built for commercial operation on the Intracoastal Waterway and requires a draft of only 6.5 feet allowing it to dock at small yacht facilities in central city locations such as Chopin Plaza.
The well-appointed luxury venue features an impressive formal marble entryway, 28 individual exhibit spaces, a coffee bar, the Luxe Lounge, an open-air champagne and tapas bar on the aft deck, Sapore', a formal glass-walled restaurant/club on Deck 3, Bistro360, an informal open-air restaurant and Bar360, a sky deck cocktail reception area.
Cruise, shop and dine aboard the uber-luxe 228-foot megayacht, SeaFair, offering the ultimate excursions where sea and sky converge with the glamour of iconic Miami.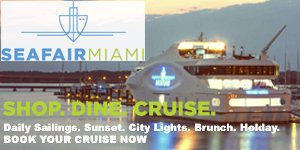 Enjoy four passenger decks with open-air sky deck dining, an elegant glass-walled club lounge, champagne and caviar bar and three decks of unique shops and galleries offering luxury must-haves including art, fine jewelry, designer trunk shows and more. International cuisine, tapas, fine wines and Champagne combined with live music ranging from jazz to island rhythms tops off this truly unique Miami experience.