New Year, New Works: Inquisition
Sunday, 03/24/2022-, 07:30 pm-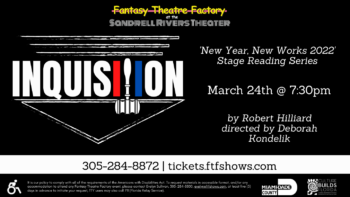 Sandrell Rivers Theater
6103 NW 7th Ave, Miami FL,
Miami, Florida, 33127
Website
Cost: 5
Requiring social distancing? YES
Requiring masks? YES
Providing hand sanitizer? YES
Fantasy Theatre Factory invites you to a series of New Year, New Works!
ABOUT INQUISITION:
Several university faculty families meet to decide whether to cooperate with a Congressional committee holding nationwide investigations on campuses of alleged foreign terrorist sympathizers or whether to join a college-wide protest against the attempt by the radical right that has gained control of the government to stifle dissent and freedom of speech. The faculty members' divisive discussion strips away their veneer of idyllic personal relationships and begins to tear apart their marriages as personal secrets are revealed.
Playwright: Robert Hilliard
Director: Deborah Kondelik
Location: Sandrell Rivers Theater
6103 NW 7th Ave. Miami, FL 33127
Ticket Price: $5
Link for tickets: tickets.ftfshows.com
Phone Number: 305-284-8872
PG 13 – Suitable for people 13 years or older. Under 13 should view with an adult.
Sponsor List: This program was made possible with the support of the Miami-Dade County Department of Cultural Affairs and the Cultural Affairs Council, the Miami-Dade County Mayor and Board of County Commissioners, the Broward County Cultural Division, sponsored in part by the State of Florida, Department of State, Division of Arts and Culture and the Florida Council on Arts and Culture, and the National Endowment for the Arts.
COVID Guidelines: Read our guidelines: https://www.sandrellriverstheater.com/reopening
ADA Accommodations: It is our policy to comply with all of the requirements of the Americans with Disabilities Act. To request materials in accessible format, and/or any accommodation to attend any Fantasy Theatre Factory event, please contact Evelyn Sullivan, 305-284-8800, evelyn@ftfshows.com, at least five (5) days in advance to initiate your request, TTY users may also call 711 (Florida Relay Service).