Legends Only x Art Basel Weekend at Essentials Gallery
Thursday, 12/07/2023-12/10/2023, 09:00 pm-02:00 am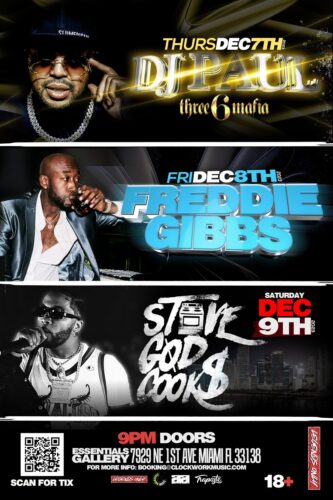 Essential Gallery
7929 NE 1st Ave,
Miami, Florida, 33138
Buy Tickets
Cost: 25
Clockwork Music presents Legends Only x Art Basel Weekend, a 3-day cultural immersion of music, art + culture, which will take place at Essentials Gallery (7929 NE 1st Ave, Miami, FL 33138). Memphis hip-hop Legend DJ Paul of Three 6 Mafia will kick the festivities off in grand style on Thursday, December 7, followed by recent Grammy Nominee Freddie Gibbs, who will be performing a rare headline play on Friday, December 8. Lastly, buzzing newcomer Stove God Cooks headlines Saturday, December 9. Legends Only x Art Basel will also boast other special guest performances + appearances TBA.
The Legends Only x Art Basel weekend is a three-day art, music, and cultural celebration which will bring together diverse artists from all elements of the Urban Hip Hop, DJ, and Art culture. The event will consist of live art, dance, DJ demonstrations, and great live music, and aims to become an annual community platform to preserve and highlight Hip Hop's true motto of peace, unity, love and having fun.
Other featured artists include: 7XVE the Genius, Fuego Base, Otto Von Schirach, Lamebot, Shottie, Tate228, Feed the Family, Unlearn, the ATG, Shadow League Records, Negus Fresh, James Klynn, Poindexter the Great, and DJ Heron.
Tickets for Legends Only x Art Basel Weekend and more information on three-day event and individual day passes are now available at tinyurl.com/legendsonly2023. Legends Only x Art Basel Weekend is an 18+ only event.
For all ticketing info, FAQ, and more information, please click tinyurl.com/legendsonly2023 or email Booking@Clockworkmusic.com.