Valentine's Day Cooking Class With A Celebrity Chef!
Thursday, 02/14/2013, 07:30 pm – 09:30 pm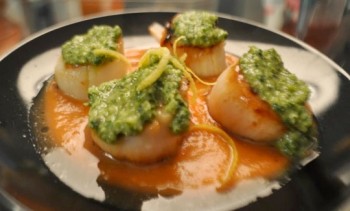 The Village Stand
216 NE 98 Street,
Miami Shores, Florida 33138
Webpage Link
Valentine's Day Cooking Class With Local Celebrity Chef Laura LaFata!
We are so happy to have Laura LaFata, La Diva Cucina come and teach an incredible class this Valentines Day! Plenty of drinks and tantalizing seafood! It's open to couples and singles to come and learn some techniques that will make your life easier in the kitchen with a menu that will satisfy your senses. You will enjoy this interactive cooking class, we are pulling out all the stops! Check out our menu below:
-Mediterranean bean dip with rosemary and lemon with heart shaped crostini
-Oysters a La Carl: Freshly shucked oysters with a creamy custard, garlic, prosciutto and other toppings grilled to a bubbly bite!
-Champagne mojitos
-Seared diver scallops topped with a rich, macadamia lemon pesto and nestled on a bed of tomato garlic coulis
-Pomegranate mint martini
-Prosciutto wrapped prawns sauteed with a sambuca orange rosemary sauce, divinely decadent
-Artisinal chocolates
While a few things may change, portion sizes will always be generous. BOOK TODAY!
WHEN: Thursday, February 14th 2013
WHERE: The Village Stand 216 NE 98th Street, Miami Shores FL 33138
RESERVE 305-297-8121
TIME: 7:30 PM