Gay Mr. America and Impulse Group Ft. Lauderdale present Pumped at Rok Bar during Pride Weekend 2014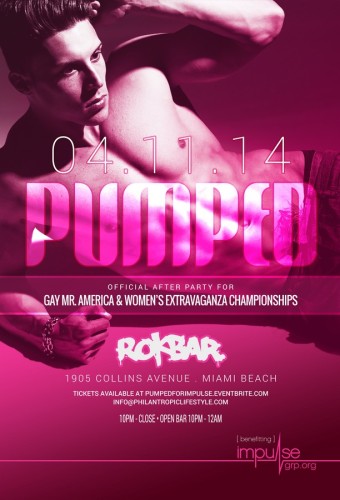 April 11th from 10pm-2am
Rok Bar in South Beach
1905 Collins Ave
Miami Beach, FL 33154
Purchase Tickets Online
The Most Prestigious Title In Amateur Bodybuilding teams up with Impulse Group Fort Lauderdale in collaboration with AIDS Heatlhcare Foundation to promote overall health and fitness in the LGBT community in a fashion that only Impulse can create…PUMPED: the Official After Party for the Gay Mr. America bodybuilding competition.
In a city where everybody takes pride in his or her body, what is the recipe to create the ultimate showcase? Sprinkle a little glitz and glam on top of sculpted, massive bodies and you get "PUMPED!" It will be raining men…and women of all walks of life as we get PUMPED for an unprecedented celebration! For the first time ever, The Most Prestigious Title In Amateur Body Building, Mr. America, will be hosting PUMPED to honor and celebrate the winners of the competition being held earlier that day at the Colony Theater on Lincoln Road.
The Official After Party for Mr. Gay America and Women's Extravaganza Championships to benefit Impulse Group Fort Lauderdale!
This celebration will open up the doors to athletics in the LGBT Community as we acknowledge the dedication, sweat and perseverance of these Bodybuilding and Fitness competitors. Â Broadening the audience of Bodybuilding/Fitness shows in the US will make it possible for members of the LGBT community to be honored in their Fitness, Bodybuilding and competitive dreams.
"Bodybuilding and fitness would not exist today if were not for the support of the gay community throughout the years.  In fact, the most coveted trophy is the Sandow, presented to the winner of the Mr. Olympia contest (the best of the best show.) Very few know that Eugen Sandow, a pioneering bodybuilder, was gay.
Now we will give the LGBT community the chance to stand out in the competitive world of fitness and bodybuilding with the first annual Gay Mr. America and Women's Extravaganza Championships," stated Bob Bonhan, Owner of Mr. America.
Who else but Impulse Group Fort Lauderdale to produce such a monumental after party for the bodybuilding competition? Impulse is known for producing phenomenal "pink carpet" events that blend glamour and swag with life-saving messaging about healthy living in a world with HIV. At PUMPED, a whirlwind of bodies in motion will encourage guests to get physical in every sense of the word! With a very sexy, sweaty, gym theme, dancers and performers will glisten with body paint in their designated work out zones, and the sounds of activist DJ Christian Salmonson will fill the arousing gym atmosphere. Fitness entrepreneur, Mikey Verdugo, will MC the event and drive home the message of a healthy lifestyle. If that is not enough fitness fun for guests to absorb, we will supply them with Impulse's signature gym gear for future fitness endeavors.