Sam Green & Yo La Tengo in The Love Song of R. Buckminster Fuller
Saturday, March 22 at 6:30 & 9:30 p.m.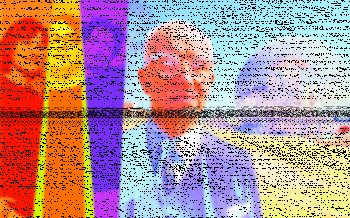 Colony Theatre
1040 Lincoln Road
Miami Beach, FL 33139
Tickets are $30 (plus fees) for general admission and $10 for MDC students with valid identification.
mdclivearts.org
Miami Dade College's (MDC) MDC Live Arts presents Academy Award–nominated filmmaker Sam Green with venerated indie rock band Yo La Tengo for an enthralling hour-long "live documentary" on R. Buckminster Fuller, the inventor, architect, futurist, engineer, and author most famously known for his creation of the geodesic dome. As a progenitor of such issues as sustainability and conservation, Fuller was also a proponent of radical societal change through design and architecture.
MDC Live Arts will present two back-to-back performances of The Love Song of R. Buckminster Fuller at 6:30 and 9:30 p.m., Saturday, March 22, at Colony Theatre in Miami Beach. Yo La Tengo will provide the live, sonically subtle and richly atmospheric, backdrop soundtrack for Green's charismatic in-person cinematic narration as he delves deep into projecting film clips, photographs, letters, and blueprints from Fuller's immense body of work.
"Fuller was ahead of his time, the values that his work and life encompassed are directly aligned with the global environmental movement of today," said MDC Live Arts Executive Director Kathryn Garcia. "Whether or not people are familiar with him and his design legacy they will be fortunate to experience his life's work through this captivating and creative reflection by Green and Yo La Tengo."
A unique collaboration between two independent pioneers of film and music, The Love Song of R. Buckminster Fuller premiered May 1, 2012, at the San Francisco Museum of Modern Art as a part of the 2012 San Francisco International Film Festival. The piece has screened exclusively at select art venues, including the Time-Based Art Festival in Portland, OR, the Wexner Center for the Arts in Columbus, OH, and the Institute of Contemporary Art in Boston, MA.