Pinkberry Miami Beach Opening Pep Rally benefiting Miami Beach High Graduation Fund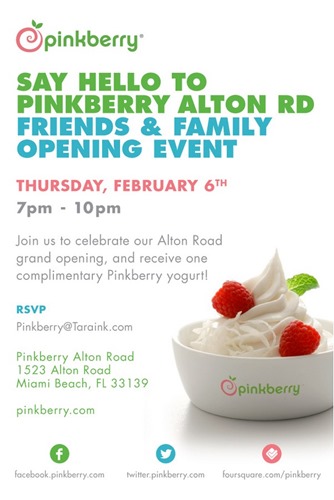 Thursday, Feb 6th: 7-10 PM Friends and Family Celebration, Free pinkberry (evite attached)
Friday, Feb 7th: 11 am-1 am Grand Opening; Pep rally with Miami Beach High Band and Cheerleaders from 2-4 pm
1523 Alton Road
Miami Beach, FL 33139
Easy for Miami Beach residents to enjoy the frozen treats.  The store will officially open on Friday Feb. 7th at 11 a.m, with standard store hours Sunday through Thursday 11 a.m. to 12 p.m., and Friday and Saturday 11 a.m. to 1 a.m.
  Pinkberry, a global yogurt retailer, announced today it will open its fifth store in South Florida on Feb. 7th  The new store, located at 1523 Alton Road, will make it easy for Miami Beach residents to try Pinkberry's one-of-a-kind, handcrafted yogurt experience that offers uncompromising quality and freshness.
 
"We are excited to arrive at Alton Road," said Ron Graves, CEO of Pinkberry. "We are happy to serve and become a local favorite of the community in South Florida with our one of a kind experience and light and refreshing taste.
 
"The Ocean Drive and Midtown Pinkberry stores are off to a great start and we are excited to arrive at Alton Road," said Ron Graves, CEO of Pinkberry. "We are happy to continue to serve communities in South Florida and will look for more opportunities to develop stores in the state.
 
Pinkberry takes pride in serving the perfect cup of yogurt with a dedication to quality and freshness the residents of Miami will taste. Pinkberry's handcrafted yogurt bar offers a variety of irresistible fresh and frozen yogurts expertly crafted to complement its thoughtfully selected toppings to create one-of-a-kind taste experiences. With a passion to help people discover new ways to enjoy yogurt in their daily routines, Pinkberry assists every customer in pairing yogurts with the perfect toppings, blending them into smoothies or creating delicious parfaits.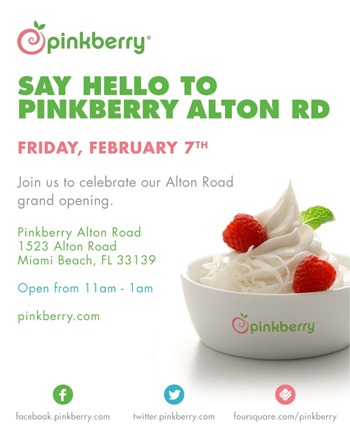 ·         Pinkberryfrozen™ yogurt is the perfect treat. It's made with non-fat RBST milk and non-fat yogurt, it is light, refreshing with a clean finish. There are over 15 different flavors that rotate based on the season. 
·         Pinkberrygreek™ fresh, not frozen yogurt is the perfect protein rich snack. It's an all-natural, nonfat yogurt with a clean finish offering 15g of protein per 5oz with no added sugar. Pinkberrygreek can be traced back to happy and healthy cows that live on a sustainable farm. The farm fresh milk creates a signature silky smooth yogurt that is both highly nutritious and delicious.
 
·         The taste of these specialty yogurts is unbeatable when combined with selected toppings like fresh daily hand-cut fruit, never frozen or in syrup, premium granolas and nuts, specialty chocolates and sweets as well as finishers like cinnamon honey, organic vanilla agave and strawberry puree that customers can choose from to personalize their yogurt experience. Pinkberry offers a topping bar that is 100 percent free of transfats, hydrogenated oils and high fructose corn syrup so every topping is a good choice.
Pinkberry currently has four locations in South Florida: The Prado, 8737 SW 136th Street, Miami, FL, 33176 and Aventura, 21211 Biscayne Blvd., Aventura, FL, 33180, South Beach, 1144 Ocean Drive, Suite 106A, Miami Beach, FL 33139 and Midtown, 3401 N. Miami Ave., Suite 122, Miami, FL 33127, which are operated by David Beall.  Pinkberry's newest Alton Road location will be open Sunday through Thursday 11 a.m. to 12 a.m. and Friday and Saturday 11 a.m. to 1 a.m.
 
For more information on store locations visit  www.pinkberry.com, like Pinkberry on  Facebook, follow us on Twitter, or download the Pinkberry App on iTunes or Play Network.