UniverSoul Circus Celebrates 20th Anniversary in South Florida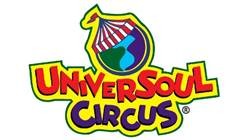 Opening Night on Friday, Jan. 17 at 7:30pm
Saturdays, Jan. 18 & 25 at 12pm, 4pm & 7:30pm
Sundays, Jan. 19 & 26 at 12:30pm, 3:30pm & 6:30pm
Monday, Jan. 20 at 6:30pm
Thursday, Jan. 23 at 7:30pm
Friday, Jan. 24 at 10:30am & 7:30pm
Miramar Regional Park
16801 Miramar Pkwy
Miramar, FL
Tickets prices range from $16 – $35. Children under 1 are free.
Tickets Online
www.UniverSoulcircus.com
UniverSoul Circus is now celebrating its 20th Anniversary with a return to South Florida. This high tech state-of-the-art production, features amazing acts highlighting excellence in artistry from around the globe. Considered one of the world's top rated and most interactive circuses, UniverSoul showcases the perfect blend of music, theater and circus acts, along with a unique brand of comedy allowing audiences of all ages have fun while becoming a part of the show, which also offers a progressively urban and international flavor.
Some of the acts this year include:
· High wire act from Colombia
· The Olate Dogs from Chile (winners of the 2012 America's Got Talent)
· Extreme motorcycle riders in the Globe of Death from Colombia
· Contortionists from Ethiopia
· Wuhan Flying Trapeze from China
· Polish Hand Balance Act from Poland
· The famous Barreda Elephants
· Stilt walkers and puppets from Trinidad
· Clowns from South Africa, Guinea West Africa, featuring Miami's own Onionhead
and much more.
"Twenty years ago, UniverSoul Circus started as a dream," said CEO and Founder Cedric Walker. "From a single tour stop in 1994, to amassing a worldwide audience of millions, our steady growth, popularity and critical acclaim has exceeded my wildest expectations. We not only ran away with the circus, we created one. My dream of producing a singular entertainment event for the entire family to enjoy has turned into a reality, ten-fold," Walker added. The City of Miramar is proud sponsor of UniverSoul Circus.