Life Is Art presents Art/Work Connections #18: Instagram Tips with Anthony Jordon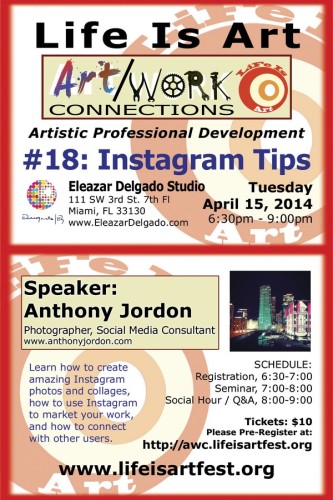 Tuesday, April 15, 6:30pm-9:00pm
Eleazar Delgado Studio
111 SW 3rd St. 7th Floor
Miami, FL 33131
in the McCormick Place building
Map
Tickets $10 (pay at the door)
Please Pre-Register
Subject: Instagram Marketing for Artists
Speaker: Anthony Jordon
Photographer, Social Media Consultant
Schedule:
6:30-7:00, Registration
7:00-8:00, Seminar
8:00-9:00, Q&A Social Hour with complimentary Wine & Bites.
Art/Work Connections is a monthly series of seminars presented by Life Is Art featuring business professionals speaking on a variety of topics vital to the success of working artists. This month, Anthony Jordon, professional photographer and social media expert, will teach you all about Instagram, one of the fastest growing social media platforms.
As a primarily visual and aural medium, Instagram is an excellent promotional platform for artists, moviemakers, musicians and performers. It is also rapidly expanding in use among the younger demographic. Do you use Instagram to promote your work? Do you know how to gain new fans and make new connections? What are the best filters or add ons? How do you make great videos on Instagram? Can you make collages or other special effects? Now is your chance to learn to use this amazing and versitile platform.
Anthony Jordon is a Miami-based photographer specializing in engagement, destination wedding, event/social, and portrait photography. In 2013, Anthony organized two major international photography events in Miami; The Scott Kelby Worldwide photowalk, the first of its in Downtown Miami, and Help Portrait Miami, partnering with the Miami Rescue Mission. Anthony has been an online moderator for Cloak Inc.'s One 12 Haiti Solidarity Virtual March, as well as a guest speaker for Photovoice. Credits include Instagram Ambassador for Scope Miami 2012, Heineken Murals/Heineken Light Project Social Media Ambassador Miami and Washington, DC (2012-2013), photographer for Eleazar Delgado, JLPR, Red Bull, GLAAD, Absolut, and Muscle Milk just to name a few. Anthony's work has also been published in the Miami and Broward-Palm Beach New Times, Miami Magazine, miamiartzine.com and he is a current contributor to Soul Of Miami.
Originally conceived at our home, Eleazar Delgado Studio has always been the artist's creative space. The idea grew into a gathering place for our friends, mostly artists in their own rights, to showcase their current work and preview concepts. We made it official in 2010 when we opened a public space in Wynwood. Today in addition to being Eleazar's personal art studio, we host local talents and leaders who need a professional environment to showcase, educate, and enrich the community at large.
About the Art/Work Connections Program
The Art/Work Connections program is a monthly series of business seminars held at galleries and art spaces around South Florida targeted at artists and those working in the arts. Everyone is welcome and can benefit from them. Business professionals are brought in to cover a wide variety of topics including health care, financial planning, contract negotiation, copyright law, portfolio development, social media, marketing and much more.
About Life Is Art, Inc.
Life Is Art is a Florida-based 501(c)3 non-profit corporation dedicated to creating positive change in the community with the arts and culture through events and education. We give South Florida artists and civic leaders the tools to thrive and grow, while enhancing the lives of those living in our area.