Miami Record Store Days 1975-2000
April 19, Doors: 5:00 pm / Show: 6:00 pm (event ends at 11:00 pm)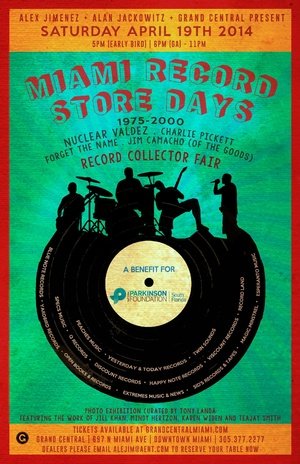 Grand Central – Miami
697 N Miami Ave.
Miami, FL, 33136
Special presale tickets are $10 for general admission and $20 for early bird / VIP access to the record collector fair for best selection
purchase online
The event is open to all ages.
Records stores may continue to dwindle in number and vinyl may be going the way of polar ice caps, but that cannot stop the growing international phenomenon that is Record Store Day. This year, the wax aficionado holiday lands on April 19th and one of Miami's top live music venues Grand Central will host an event to honor Miami's great music mom and pop shops and chains past, as well as some of the more prominent acts to emerge from the area, including Nuclear Valdez, Charlie Pickett, Jim Camacho of The Goods and Forget the Name – all for a great cause.
"It's ironic that as the number of records stores continues to fall, Record Store Day continues to gain more momentum," says event co-organizer and music business mainstay Alex Jimenez. "I'm excited not only about continuing the legacy established by notable record stores like Peaches Music, Specs Music, Q Records, Yesterday & Today Records, Open Books & Records, Blue Note Records and others, but to help raise awareness and funds for Parkinson's disease and research."
Jimenez was in part inspired by former Peaches executive and colleague Alan Jackowitz's diagnosis and subsequent struggle with Parkinson's.
Nuclear Valdez rose to regional and national acclaim in the late 80's with the release of I Am I on Epic and the radio and MTV hit "Summer." Axe man Charlie Pickett's band The Eggs were hailed by Rolling Stone's David Fricke as a "brawling-roots mix of Johnny Thunders, Sun Records and trailer park Lou Reed" and by R.E.M.'s Peter Buckas "one of the undiscovered giants of the late eighties."
Singer / songwriter / playwright Jim Camacho first came to regional and national prominence with The Goods, who were signed to Polygram Records and were featured in the music doc Tom Dowd and the Language of Music. Forget the Name enjoyed a nine-year run during the late 80s and early 90s, developed a strong following in Miami, toured the east coast and released three full-length albums of material.
There will be a special music photography digital expo curated by yet another music insider, photographer and Dig Under Rock blog head Tony Landa. The works of Jill Khan, Mindy Hertzon, Karen Widen, Laura Kokus andTeajay Smith will be shown throughout the event.
A record collector's "swap meet" will kick off the event with top dealers offering highly prized collectibles. "This sort of blows up the concept of the Saturday morning swap meet at an area hotel conference room bringing it into an environment that really suits it well," states Jimenez. Interested record dealers please email alejim@aent.com to reserve your table now.