National Water Dance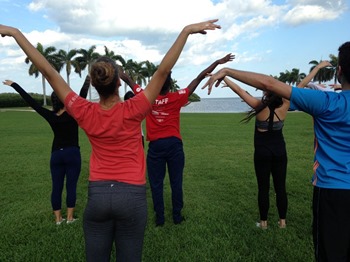 Saturday, April 12, 4pm
Deering Estate at Cutler
16701 SW 72 Avenue
nationalwaterdance.org
30 States Dance Across America for Water on April 12, 4pm
Coming together on Saturday, April 12 at 4pmEST are 1500 dancers from across the country to perform a site-specific dance at a river, a bay, a lake, the ocean, or any water site nearby. From the University of Alaska to Miami Dade College, from the Dance Engagement Company in California to Bates College in Maine, students from colleges and universities, private dance schools, high schools and elementary schools, and dance companies will unite to celebrate Water.
"My desire in creating National Water Dance was to inspire young artists to go beyond the studio and the stage with their art; to connect with the environment and realize the power of art to bring awareness to environmental issues, particularly water," said National Water Dance founder and artistic director Dale Andree. "Through the internet National Water Dance has become the community of artists/activists that I hoped it would."
Founded by artistic director Dale Andree and produced by Daniel Lewis, National Water Dance has been created to bring attention to the power and fragility of the nation's waterways. Bringing dancers and musicians together from across the country and using dance as a form of social activism is, according to Ms Andree, "a force that can create social change."
The Miami performance of National Water Dance will feature 80 dancers and 50 singers at the Deering Estate at Cutler, as part of their Festival of the Arts, at 4pm on Saturday, April 12. The artists will perform to an original score performed by its composers Miami musicians Vicki Richards and Jeff Deen. Admission from 3:30pm on is FREE. Participating schools include New World School of the Arts, South Miami Community Middle School, Arthur and Polly Mays Conservatory of the Arts, RR Moton Elementary School and Miami Dade College/Kendall Campus under the direction of Michelle Grant-Murray, assistant director of the Miami-Dade portion of National Water Dance.
"It will be so exciting to see dancers from across the nation, talking about our environment and turning those ideas into a symphony of movement across the country," said Daniel Lewis, founding Dean of Dance of New World School of the Arts.
The entire local and national event will be live streamed.
Additional Florida Events of National Water Dance:
* Composition Concert by Dr. Susan Epstein Garcia
April 8, Colony Theatre, Lincoln Road on Miami Beach
7:30pm, Free & Open to the Community
Featuring student composers from the New World School of the Arts performing new music in a program called New World: An Evening of Contemporary Original Compositions.
Information: 305 237 7855
* Free Showerheads provided by Earth Ethics Institute of Miami Dade College to anyone who brings in an old showerhead to the April 8th concert or the Main Event on April 12. The new showerheads are provided by Miami-Dade County Water and Sewer Department, and is part of their indoor water conservation campaign. Earthethicsinstitute.org
*Arts for Learning has worked with over 600 students from across the county in dance, music and visual art, culminating in performances to take place simultaneously at Shenandoah Park, Flamingo Park, Centro Mater East, Silver Bluff Elementary, The Barnyard and North Beach Elementary.
National Water Dance Partners Include:
Arts for Learning, a non-profit organization dedicated to advancing teaching an learning through the arts and community cultural resources. A4L connects the arts to other subjects to support academic achievement and child development.
Earth Ethics Institute at Miami Dade College provides resources, workshops, and programs for the Miami Dade College community that encourage the integration of the knowledge, values and skills needed for a sustainable way of life into all practices and disciplines.
The Deering Estate at Cutler, a Miami-Dade County Park, is located at 16701 SW 72 Avenue in Miami.   This 444-acre natural and archeological preserve and historic site is listed on the National Register of Historic Places and serves as a center for education, culture and recreation.  Visit www.deeringestate.org.
The Deering Estate Festival of the Arts, supported in part by the National Endowment for the Arts, runs from April 11-13, 2014, celebrating the literary, visual and performing arts and artists of South Florida. Schedule includes The Lost Girls Playwrights reading, a Piano Master Class with Dr. Jose Lopez, the opening of the In Deep exhibit, the Poetry at the Fire Circle, the 'Spark of Genius' concert with Charles Castleman, among others events.
Participating Institutions in the National Water Dance (as of February 2014)
Alaska University of Alaska; Arkansas Henderson State College, Hendrix College; California Loyola Marymount University, Dance Engagements, Crenshaw Yoga and, Dance, Blackbird Dance Company, Karmagraphy, University of San Francisco, Beatriz Eugenaia 3-19 Dance Art Connecticut Wesleyan University Florida NOVA Southeaster University, University of Florida College of Central Florida, Northwest Florida State College, Florida Gulf Coast University, Midway Elementary School, New World School of the Arts, Miami Dade College/Kendall Campus/Jubilation Dance Ensemble, Broward College, Palm Beach Atlantic University, Earth Ethics Institute at Miami Dade College, University of Tampa, Pensacola State College, South Miami Middle Community School, Karen Peterson and Dancers, Arthur and Polly Mays 6-12 Conservatory of the Arts, Florida Atlantic University, RR Moton Elementary, Florida State University Georgia University of Georgia Indiana Indiana University Bloomington Iowa Luther College Louisiana University of Louisiana at Monroe, Southeastern Louisiana University Dance Performance Project Maine Bates College Maryland Towson University Massachusetts, The Yard, Hampshire College Peanut Butter and Jelly Dance Company Mississippi University of Mississippi University of Southern Mississippi, Belhaven University Missouri Webster University Nebraska The Moving Company, University of Nebraska University of Nebraska/Lincoln New Jersey Georgian Court University New York Briarcliff High School, University of Rochester, NDEO Brockport Student Chapter Horace Mann School North Carolina The Dancer's Extension, Bradley Middle School Ohio Kent State University, Antioch College, Ohio Wesleyan University, Denison University Oklahoma University of Central Oklahoma Oregon Southern Oregon University Pennsylvania DeSales University, Temple University, Muhlenberg College Slippery Rock University, Mercyhurst University Rhode Island JMW High School of the Performing and Visual Arts South Carolina Lander University, M.V. Riley Elementary School, Lady's Island Middle School, Beaufort High School Tennessee Sewanee: The University of the South, Chattanooga Dance Projects, Chattanooga Ballet, Cleveland City Ballet, Mawre & Company Performance Troupe, Mary Holliday Dance Ensemble Virginia The Governors School for the Arts Washington Cornish College of the Arts Wisconsin University of Wisconsin, Madison Kennedy Elementary School Dance Education Center Stevens Pt., Moving from Within Wyoming University of Wyoming