The Kitchen Hop | A Restaurant Hop Experience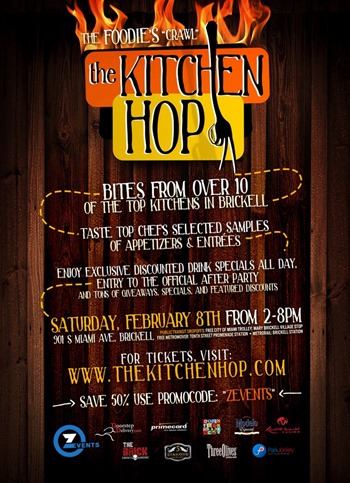 Saturday, February 8, 2-8pm
901 S Miami Ave
Brickell Miami, FL
For tickets 
Use Promocode:"Zevents" for  more than 50% OFF your ticket.
For discounted parking, pre-purchase here
The Kitchen Hop "The Foodies Crawl"
This Saturday  The Kitchen Hop will take over the Mary Brickell Village area with a restaurant crawl of epic proportions. The delectable event will feature more than 10 of the area's best spots, including Oceanaire, Dolores Lolitas, Toscana Divino, Fado Irish Pub & The Confession Box, Burger & Beer Joint, Balans, Taverna Opa, Tapas Benidorm, Blue Martini, and Brother Jimmy's BBQ.
Attendees will bounce from one kitchen to another, sampling chef-selected appetizers or entrees at each stop. Live entertainment and DJs  will be jamming from 4 to 8pm. You'll also enjoy drink specials throughout the afternoon to wash everything down ($3 Modelo Beer, $5 Three Olives Cocktails). Come evening, you'll head to the after party at Blue Martini for a complimentary welcome cocktail and some more live entertainment. The Kitchen Hop is sure to be this winter's tastiest event.