FREEHOLD Miami to Host Thrilling Lineup for F1 Weekend with Walshy Fire of Major Lazer, Gold Room, Whethan, and More | April 5-8
Thursday, 05/05/2022-05/08/2022, 09:00 pm-09:00 pm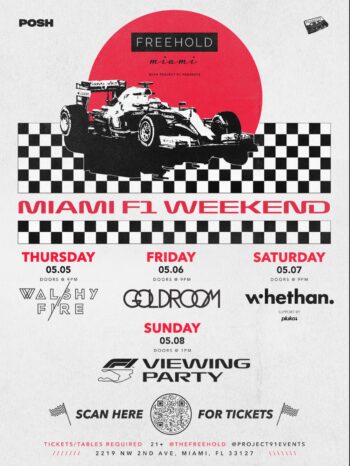 FREEHOLD Miami
2219 NW 2nd Ave,
Miami, Florida, 33127
Website
Cost:
Requiring social distancing? NO REPLY
Requiring masks? NO REPLY
Providing hand sanitizer? NO REPLY
WHO/WHAT: Located in the heart of Wynwood, FREEHOLD Miami in partnership with Project 91 has curated a stacked 4-day lineup for Miami debut of Formula 1 United States Grand Prix.
Thursday, May 5 – Walshy Fire of Major Lazer (9PM)
Friday, May 6 – Gold Room (9PM)
Saturday, May 7 – Whethan (9PM)
Sunday, May 8 – F1 Viewing Party (3PM)
WHERE:
FREEHOLD Miami | 2219 NW Second Ave., Miami
Thank you for using Soul Of Miami!