Iconic Limón Dance Company Joins Dance NOW! Miami Onstage
Friday, 05/13/2022-, 07:30 pm-10:30 pm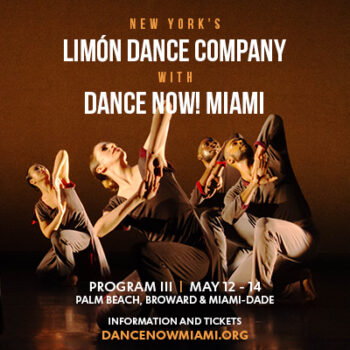 Amaturo Theater, Broward Center
581 W Las Olas,
Fort Lauderdale, Florida, 33312
Buy Tickets
Cost: 50
Requiring social distancing? NO REPLY
Requiring masks? NO REPLY
Providing hand sanitizer? NO REPLY
Iconic Limón Dance Company Joins Dance NOW! Miami Onstage
Program III Frida, May 13
WHAT: Limón Dance Company joins Dance NOW! Miami for Program III of the season
WHEN: Friday, May 13 at 7:30 pm
WHERE: Amaturo Theater, Broward Center for the Performing Arts, 581 W Las Olas, Fort Lauderdale FL 33312.
ADMISSION: $50 reserved seating, $20 for students with valid ID. Advance tickets and information on current COVID rules for all venues at www.dancenowmiami.org.
FOR MORE INFO: www.dancenowmiami.org (305) 975-8489 or info@dancenowmiami.org
What happens when one of New York's iconic Modern Dance ensembles, the Limón Dance Company, joins forces with one of Florida's leading contemporary groups, Dance NOW! Miami? A powerful series of joint performances across three counties, with additional educational and community events, that will make local dance lovers swoon. The two companies will share the stage for Program III of Dance NOW's season on Thursday, May 12, at Lake Worth's Duncan Theater, on Friday, May 13 at Broward Center's Amaturo Theater, and on Saturday, May 14, at the Aventura Arts & Cultural Center. The programs will include a collaboration between the two groups, along with pieces from each separately.
At all dates, the Limón and Dance NOW! companies will jointly perform The Waldstein Sonata, a 1971 unfinished work from Limón completed after his death by Dr. Daniel Lewis, former Limón Artistic Director and the Founding Dean of the Dance Department at the New World School of the Arts. Lewis, with Nancy Jordan, former Julliard faculty member, will restage the work with both companies.
Dance NOW! Miami will present two works on their own. The first is a Limón classic that Lewis previously restaged on them, La Malinche, about the real life story of an indigenous Nahua woman who played a key role in the Spanish conquest of the Aztec Empire, a legendary character in Mexican cultural history. They will also reprise their recent piece, choreographed by Hannah Baumgarten and Dance NOW! Miami Artistic Co-Director Diego Salterini, Anusim, What is Hidden is Never Lost, depicting a rarely told story in Jewish history about the 1497 decree in Portugal forcing all Jews to be baptized as "New Christians."
Reserved seating tickets are $50, and $20 for students, with IDs. Advance tickets can be purchased only at www.dancenowmiami.org. The three venues are all fully wheelchair accessible, with adjacent parking. To arrange for group sale discounts, to find out the current COVID rules for each venue,and to request materials in accessible format, or any disability accommodation, visit www.dancenowmiami.org or contact Dance NOW! at (305) 975-8489 and info@dancenowmiami.org.
Video: https://www.youtube.com/watch?v=RgtxKnUcMv0