Meet Award-Winning "Fly, Fly Away" Author Pamela Bauer Mueller at History Fort Lauderdale
Monday, 03/23/2020 – 06:00 pm – 08:00 pm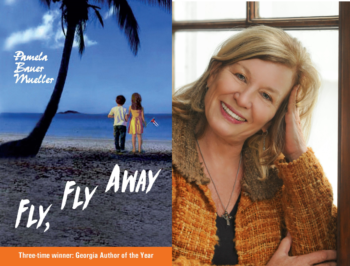 History Fort Lauderdale (New River Inn)
231 SW Second Avenue,
Fort Lauderdale, Florida 33301
Website
Cost: Free
History Fort Lauderdale, proud steward of our community's past by making our heritage accessible and engaging to residents and visitors, continues to celebrate Women's History Month with an exclusive opportunity to meet award-winning "Fly, Fly Away" (Piñata Publishing; ISBN 978-0-9809163-6-2) author Pamela Bauer Mueller on Monday, March 23, from 6 p.m. – 8 p.m., in The New River Inn (231 Southwest Second Avenue in Downtown Fort Lauderdale). The event is free. Mueller will be sharing passages and signing copies of her newest book that introduces readers to the dramatic, heart-wrenching true story of "Pedro Pan" children.
Pamela Bauer Mueller has a well-deserved reputation for showcasing men and women of significance in American history. Now through impeccable research and expressive writing, she introduces thousands of Pedro Pan children and their families through carefully crafted stories of three-dimensional characters.
"Fly, Fly Away" takes a bold step away from her seven award-winning historical novels. She shares the unforgettable story of how families coped with the loss of their beloved children, how compassionate Americans mobilized a major national campaign to give those children a chance to find happiness, and how the children rushed into independent lifestyles, one trial and error at a time. Mueller weaves together unforgettable tales of loss, resourcefulness and romance, recounted by brave adolescents thrown into a new world of uncertainty and constant culture shock. The result is a compelling story of the Cuban revolution from the point of view of resilient youngsters and families facing setbacks and inspiration.
Mueller's meticulous research and extensive interviews with people who lived through the Pedro Pan movement also give readers insight into an historic example of America's generosity as a nation and history of compassionate sharing with neighbors in dire need.
The winner of three Georgia Author of the Year awards, Mueller based "Fly, Fly Away" on meticulous research and extensive interviews with many participants and experts. Historical facts are developed and showcased with creative story-telling and memorable characters.
Entrance to the meet and great is complimentary with an RSVP at Eventbrite at http://bit.ly/HFLMuellerAuthorSigning.
In addition to author signings, the nonprofit History Fort Lauderdale also hosts a variety of yearly multicultural exhibits highlighting African American, Caribbean and Latin artists sharing their views of history. Also currently on display for Women's History Month is "Through the Sawgrass: Women Impacting South Florida History," a photo exhibit. Permanent exhibits include "The Bryans of Fort Lauderdale" which allows guests to experience the story of the City of Fort Lauderdale as told through the pioneer family that shaped its development from an agricultural outpost in 1896 to a bustling city in the 1920s to its current status as a leading Metropolis, "Juliette Lange: A Portrait of a Mezzo Soprano," a fashion and lifestyle glimpse of the socially prominent Fort Lauderdale resident with a lauded career as a star vocalist of musical comedy, plus "Archaeology of the New River" and a multitude of narratives and photos sharing the history of other founding families of Fort Lauderdale.
For tickets and more information about History Fort Lauderdale, please call (954) 463-4431 or visit us online at historyfortlauderdale.org. Follow us on Facebook at facebook.com/ftlhistory on Instagram @ftlhistory and on Twitter @FLLhistory.