5th Annual SxSe 2012 South Florida Tweetup Weekend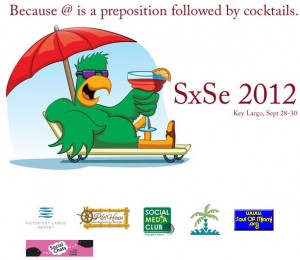 September 28-30
Hilton Key Largo Resort
97000 Overseas Hwy
Key Largo, Florida 33037
Hashtag #sxse.
Twitter @sxse.
sxsesofla.blogspot.com
Facebook Evite
Facebook Page
USE THIS LINK TO BOOK YOUR DISCOUNT ROOMS! 
SxSe is South Florida's longest continuing old skool tweetup tradition. Join us for a weekend of fun in Key Largo! The ultimate unconference. Rooms will be available at the Key Largo Hilton and the official tweetup will take place at the Pilot House nearby.
On Friday, September 28 we'll gather for happy hour, followed by a leisurely day and a tweetup on Saturday. Sunday will be the usual check-out routine as we stop to have a long, relaxing lunch and a sunset cocktail on the way back home.
Official SxSe headquarters will be at the Hilton Key Largo. Our beachfront rooms are $129/night double occupancy. The property features an activities concession if you choose to go kayaking, windsurfing, etc; but as always lounging by the pool or beach and doing nothing is highly encouraged.
The official SxSe tweetup will take place at the Pilot House just 2 miles away on the evening of Saturday, September 29. Visit Facebook for the official event invite.
We'll post details on room discount codes and additional logistical information on this website. Check out the links on the sidebar. @sxse is your best source for last-minute details, but you may also visit our Facebook Community Page. The hashtag is #sxse.
Please note that you are not obligated to stay at the Hilton or to spend the night in the Florida Keys if you want to drive home after the tweetup, although we don't recommend that choice! But if you want to stay elsewhere, that's fine. It's just more fun when everyone is in the same place.
It all started when a group of friends on Twitter got together to party in Southeast Florida! Today, SxSe is South Florida's longest continuing old skool tweetup tradition and the ultimate unconference! This year's fifth annual sub-tropical tweetup takes place in Key Largo, September 28-30, following Social Media Week. Feel the Twitter love!
The event name SxSe (South by South East, rhymes with sexy) is simply a spoof; had we been located in Bum F*ck Egypt, we might've called the event BFE. SxSe has nothing to do with SXSW whatsoever — it's just a big-ass party taking place in the nation's dicktip. There are no panels, powerpoint or keynote addresses; however, there is plenty of great discussion, bonding and friendship. If there's anything professional about SxSe, it's a very high standard of olympic-quality mojito drinking.
.