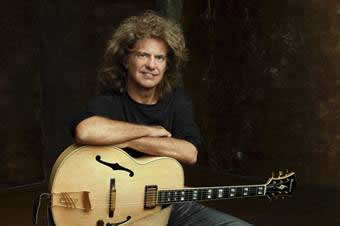 Pat Metheny Trio Returns to South Florida
March 21, 2011 – 8:00 p.m
Rose & Alfred Miniaci Performing Arts Center
Nova Southeastern University
3100 Ray Ferrero, Jr Blvd
Davie FL 33314
South Florida JAZZ welcomes the most popular and electrifying band in jazz, 17-time Grammy-winning guitar legend PAT METHENY who will appear with his trio in a special performance.
South Florida's premier modern jazz organization is privileged to feature the PAT METHENY TRIO the first time in its history. Mr. Metheny is at the zenith of modern music. He has an astounding 33 Grammy nominations in 12 categories and 17 awards in 10 of those categories. This concert takes place at the 500-seat Rose & Alfred Miniaci Performing Arts Center on the Nova Southeastern University campus, 3100 Ray Ferrero, Jr Blvd in Davie 33314. Tickets are $75 for VIP seating; $50 ($40 for South Florida JAZZ members) and may be purchased from the Broward Center Box Office by calling 954.462.0222 in Broward County; also toll-free at 877-311-SHOW, as well as online at: southfloridajazz.org, the presenting organization's official Web site.
PAT METHENY was born in Kansas City, Missouri in 1954 into a musical family. He began on trumpet at age 8, and then switched to guitar at 12. By age 15, he was playing gigs with the best jazz musicians in Kansas City, then left for the University of Miami School of Music where, at age 18, he became the youngest instructor ever. The same was true a year later when he taught at Boston's esteemed Berklee College of Music. He then burst onto the international jazz scene in 1974 with vibraphone great Gary Burton, displaying his already trademarked style, blending the loose and flexible articulation customarily reserved for horn players with an advanced rhythmic and harmonic sensibility – modern in conception but grounded deeply in the jazz tradition of melody, swing, and the blues. With the release of Bright Size Life (1975), his first as a leader, he reinvented the "traditional" jazz guitar sound for a new generation of players. Throughout his career, Pat has continued to re-define the genre by employing new technology and constantly working to evolve the improvisational and sonic potential of his instrument.
Metheny's versatility is nearly without peer on any instrument. Over the years, he has performed with artists as diverse as minimalist composer Steve Reich, Ornette Coleman, Herbie Hancock, Milton Nascimento, and David Bowie. His body of work includes compositions for solo guitar, small ensembles, electric and acoustic instruments, large orchestras, and ballet pieces, with settings ranging from modern jazz, rock and classical. "Orchestrion," a one-man technological tour de force in 2010, dazzled listeners/viewers.
It is one thing to attain popularity as a musician, but it is another to receive the kind of acclaim Metheny has gotten from critics and peers. Over the years Metheny has won countless polls as Best Jazz Guitarist and other awards, including three gold records. He has also has been nominated for 33 Grammy Awards in 12 different categories and has collected an astounding 17 Grammys in 10 categories, including Best Contemporary Jazz Recording, Best Jazz Instrumental Solo, and Best Instrumental Composition. The Pat Metheny Group won an unprecedented seven Grammys for seven consecutive albums.
The Pat Metheny Trio that will perform for South Florida JAZZ features arguably the most exciting and gifted drummer in jazz, Antonio Sanchez, whose polyrhythmic, four-limb independence almost defies description and credulity. Young, talented bassist Ben Williams is a recent winner of the Thelonious Monk Institute competition and joins very fast company with Pat and Antonio. South Florida JAZZ concertgoers saw him recently in Nicholas Payton's quintet providing a deep, solid groove.
Pat Metheny continues to be one of the brightest stars in the jazz galaxy, dedicating time both to his own projects and to those of emerging artists and established veterans alike, helping them to reach their audiences as well as realizing their own artistic visions.
Funding for this organization is provided in part by the Broward County Board of County Commissioners as recommended by the Broward Cultural Council.