History Fort Lauderdale Presents "Making Waves: A Visual History of the Marine Industry in Fort Lauderdale" at The Galleria at Fort Lauderdale
Monday, 10/11/2021-11/01/2021, 11:00 am-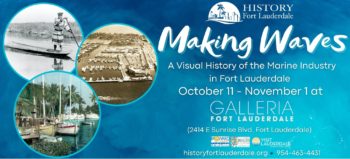 The Galleria at Fort Lauderdale
2414 East Sunrise Blvd.,
Fort Lauderdale, Florida, 33304
Website
Cost: Free
Requiring social distancing? NO REPLY
Requiring masks? NO REPLY
Providing hand sanitizer? NO REPLY
History Fort Lauderdale, proud steward of our community's past by making our heritage accessible and engaging to residents and visitors, will present "Making Waves: A Visual History of the Marine Industry in Fort Lauderdale," from October 11 through November 1, at The Galleria at Fort Lauderdale (2414 East Sunrise Blvd). The exhibit, serving as an extension of History Fort Lauderdale's newest permanent installation, "From Dugouts to Dream Yachts," is designed to coincide with the Fort Lauderdale International Boat Show and chronicles the marine pioneers and companies that contributed to the city's rise to yachting fame.
This free engaging exhibit showcases nearly 40 never-before-displayed hand-tinted, black and white and color photos and illustrations from the 1890s to the present. Included are images of Seminole ancestors in dugouts navigating waterways, aerial views of Bahia Mar and Lauderdale Marinas, Pier Sixty-Six pre-construction, Intracoastal cruising, Broward Marine and King Boat Works craftsmen and more. Also included will be a tribute to this year's 25th anniversary History Fort Lauderdale History Makers event honorees – the Denison Family (Denison Yachting) and the Marine Industries Association of South Florida (MIASF), now celebrating its 60th anniversary. History Makers, commending individuals and companies who have made an impact on the growth of the City of Fort Lauderdale, will take place on Saturday, October 30, at the Superyacht Pavilion at Pier Sixty-Six Hotel & Marina.
Visitors interested in exploring more of the city's history in-depth are encouraged to visit the new History Fort Lauderdale exhibit, "From Dugouts to Dream Yachts," which, through artifacts and photos, weaves the story of the ever-changing use of Fort Lauderdale's waterways by following the strokes of the first people to today's sightseers. Always a means of travel, now a lifestyle, Fort Lauderdale's waterways have been and continue to be a vital part of community life.
History Fort Lauderdale is currently open seven days a week, from 10 a.m. – 4 p.m., with docent guided tours, daily, at 1, 2 and 3 p.m. Group walking tours are available upon special request. Admission is $15 for adults; $12 for seniors and $7 for students (through age 22 with a valid student ID). Admission is free for members, military and children ages six and under. Tickets are available online at HistoryFortLauderdaleTickets.
For more information, please call (954) 463-4431 or visit historyfortlauderdale.org. Follow us on Facebook at facebook.com/ftlhistory, on Instagram @ftlhistory, on Twitter @FTLHistory and subscribe on YouTube at youtube.com/user/FTLhistory.