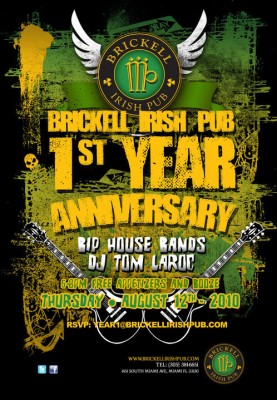 Thursday, August 12th, 2010
Brickell Irish Pub 1st Year Anniversary
1451 S.Miami Ave
Brickell, Miami FL
Email: info@BrickellIrishPub.com
www.brickellirishpub.com
Join us on Thursday August 12th to celebrate a year of good music, good drinks and good times at the Brickell Irish Pub. It's our first birthday and we're celebrating in a big way! Festivities start at 6pm with complimentary appetizers and booze 'til 8pm and the party continues into the night with Live Music from the BIP house bands and DJ Tom Laroc spinning the best jams.
Thanks to your support we have had a successful first year and are looking forward to many more- bring all your friends to celebrate with us!
6pm-8pm: Complimentary appetizers and booze
Live Music, BIP House Bands and DJ Tom LaRoc
RSVP to: YEAR1@BRICKELLIRISHPUB.COM
Follow Brickell Irish Pub on Twitter for more specials and updates:
http://www.twitter.com/brickellirish