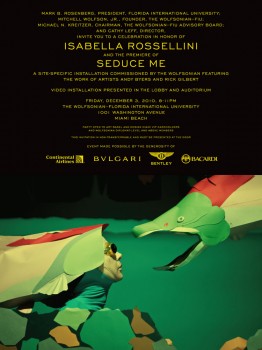 The Wolfsonian–Florida International University presents Seduce Me, a collaboration with Isabella Rossellini, Andy Byers, and Rick Gilbert in celebration of Art Basel | Miami Beach 2010.
Wednesday, December 1 through Sunday, December 5, 2010
The Wolfsonian
1001 Washington Avenue, Miami Beach, FL
Seduce Me is an installation project that takes its name from a series of short videos created by Isabella Rossellini exploring the unconventional seduction rituals of creatures ranging from bugs to cuttlefish. A site-specific project commissioned for The Wolfsonian, it features complex and imaginative paper sculptures made by Andy Byers that are used in the videos for sets, props, and costumes, and the Seduce Me videos created, produced, directed, written, and performed by Rossellini and produced and art directed by Rick Gilbert.
"The Seduce Me videos, the brainchild of Isabella Rossellini's fertile mind, are realized by an extraordinary team of creative talent," explains Marianne Lamonaca, The Wolfsonian's associate director for curatorial affairs and education." Elaborating on the themes of the videos, Andy Byers has designed for The Wolfsonian a fantastical landscape, populated by awe-inspiring creatures and made primarily of paper, that conveys the complex, ingenious, and precious attributes of nature."
The Seduce Me installation will be presented in the lobby and the auditorium, from Wednesday, December 1 through Sunday, December 5, 2010 at The Wolfsonian.
Regarding the videos, Rossellini notes, "After my comical series, Green Porno, on how animals mate, I wanted to showcase a new series about how animals seduce each other with different, varied and incredible strategies…they might give us some new ideas about how to conquer our mates!" The videos feature Rossellini speaking directly to the camera about the creature at hand, and uses animation, paper cut-outs, and puppets to illustrate its particular, often peculiar, mating strategies. The upcoming episodes of Seduce Me can be found at http://www.sundancechannel.com/greenporno/video/.
The site also features episodes of Green Porno, Rossellini's multiple Webby Award-winning series, along with exclusive photos and videos.
Other events in conjunction with the Seduce Me installation include a reception on Friday, December 3 at 8pm, which is open to Art Basel | Miami Beach and Design Miami VIP cardholders as well as Wolfsonian Diplomat-level members and above.
About Isabella Rossellini
Moving easily from early forays into comedy and television reporting to roles in movies, television, and stage productions and from an illustrious international modeling career (as the face of Lancôme for 14 years) and developing her own brand of cosmetics to writing and philanthropy, and after appearing in more than 40 films (Blue Velvet, Death Becomes Her, The Saddest Music in the World, Infamous) and 25 made-for-television movies/series (Alias, Discovery Atlas: Italy Revealed, Iconoclasts, 30 Rock), Isabella Rossellini turned her eye to film making. Her debut was her mischievous and witty film, My Dad is 100 Years Old, a pretend dialogue about the essence of film. In it, Rossellini appears as herself, speaks her father's words, and also brilliantly portrays Fellini, Selznick, Hitchcock, Chaplin, and her own mother, notable actress Ingrid Bergman, whom she strikingly resembles.
Rossellini recently wrapped production on French director Julie Gavras' romantic comedy Late Bloomers, opposite William Hurt, which is set for release in 2011. She also stars in the following films: Keyhole, directed by Guy Maddin; Chicken with Plums, directed by Marjane Satrapi; and The Solitude of Prime Numbers, directed by Saverio Costanzo.
In 2008 Robert Redford's Sundance Channel commissioned Rossellini to make a series of short films to address the issues of the environment. She chose the mating habits of bugs and called her series Green Porno which has been celebrated in film festivals here and abroad. In 2009, she won the Webby Award for "Best Individual Performance" for Green Porno. She has once again been nominated this year for the same award. For the second series, which involves sea creatures, she took courses in biology at New York University. In addition to the shorts on the Sundance Channel, a book of Green Porno was released last fall which included all three seasons of the shorts: http://www.sundancechannel.com/greenporno/
On the heels of the great success of Green Porno, Rossellini has partnered up with Sundance again for a new series about animal courtship entitled Seduce Me. The first five short films became available on video on demand in the spring and the second five will be released in November 2010.
Rossellini is also a wildlife activist and dedicated trainer of Labrador puppies for the blind. She was recently honored by The Audubon Society for her work. She has written three books: Some of Me, Looking at Me, and In the Name of the Father, the Daughter and the Holy Spirits: Remembering Roberto Rossellini. Between movie and film making projects, she lectures at performing arts centers throughout the United States and Canada.
About Andy Byers
Andy Byers is a production and costume designer currently living in Brooklyn, NY. For the past five years he has worked alongside producer and art director Rick Gilbert making a number of short films and commercials including Isabella Rossellini's Green Porno series. These films have led to a number of art exhibitions, including installations at the Berlin Film Festival and the Royal Ontario Museum. Most recently he was invited by the Wichita State University Ulrich Museum to create a series of costumes based on works present in their new exhibit "Art of Our Time". In addition to his work in film he also owns and runs a company that produces props and prototypes for both window display and print whose clients include many major retailers. Byers received his MFA in 2005 at the Ohio State University in ceramics and a BFA at the Kansas City Art Institute.
About Rick Gilbert
Rick Gilbert is a freelance producer, production designer & art director with over fifteen years of experience in feature film, television, commercials, music videos, print and stop-motion animation. He has designed and art directed films which have screened at film festivals, museums and cinematheques all over the world including: Sundance, Tribeca, Venice, Toronto, Rotterdam, Berlin, MOMA, Sao Paulo and Pusan, South Korea. He has worked with many talented directors and cinematographers including: Isabella Rossellini, Todd Solondz, Paul Mazursky, Guy Maddin, James Franco, Deepha Mehta, Jeremy Podeswa, Norman Jewison and Academy Award nominated cinematographer, Ed Lachman.
Gilbert produced and art directed the wildly successful series of short films, Green Porno, written, created by and starring Isabella Rossellini for the Sundance Channel. The films screened at the Sundance, Berlin, Hong Kong, Tribeca, Pocket Film Festival (Paris), Sydney (Audience Award Winner) and Hot Docs Film Festivals, among others in 2008. Gilbert is presently in post production on Rossellini's ten short films: Seduce Me for Sundance Channel and also prepping an hour special by Rossellini for Planet Green, entitled Manhattan Beasts. Gilbert is a graduate of the Media Arts program at Ryerson University in Toronto and Television Production at Red River College in Winnipeg.
About The Wolfsonian–Florida International University
The Wolfsonian is a museum, library, and research center that uses objects to illustrate the persuasive power of art and design, to explore what it means to be modern, and to tell the story of social, historical,
and technological changes that have transformed our world. The collections comprise approximately 120,000 objects from the period of 1885 to 1945—the height of the Industrial Revolution to the end of the
Second World War—in a variety of media including furniture; industrial-design objects; works in glass, ceramics, and metal; rare books; periodicals; ephemera; works on paper; paintings; textiles; and medals.
The Wolfsonian is located at 1001 Washington Avenue, Miami Beach, FL. Admission is $7 for adults; $5 for seniors, students, and children age 6 -12; and free for Wolfsonian members, State University System
of Florida staff and students with ID, and children under six. The Wolfsonian, presently on a Summer Schedule through September 15, 2010, is open Thursday from noon-6pm; Friday from noon-9m; Saturday and Sunday from noon-6pm; and is closed Monday, Tuesday, and Wednesday. Contact us at 305.531.1001
or visit us online at www.wolfsonian.org for further information.
The Wolfsonian receives ongoing support from The Miami-Dade County Department of Cultural Affairs and the Cultural Affairs Council, the Miami-Dade County Mayor and Board of County Commissioners; the City of Miami Beach, Cultural Affairs Program, Cultural Arts Council; the William J. and Tina Rosenberg Foundation; Continental Airlines, the Official Airline of The Wolfsonian–FIU; Bacardi USA, Inc.; and Arrowood Vineyards & Winery.