The 2023 Florida Renaissance Festival
Saturday, 02/04/2023-03/26/2023, 10:00 am-06:00 pm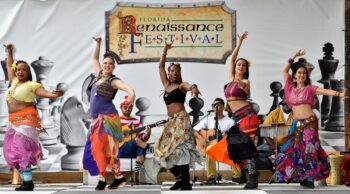 Quiet Waters Park
401 S. Powerline Rd,
Deerfield Beach, Florida, 33442
Website
Cost: Prices range from $29 for adults and $13 for children (ages 6 to 11 years of age). Children 5 and younger are free. Special seasonal passes are available for $139 (adults) and $69 (children). Group ticket rates are also offered.
The annual Florida Renaissance Festival returns with a one-of-a-kind family-friendly event that takes lords and ladies of the realm back to a time when tunics, gowns, laces, stockings, frills, slashed sleeves, and broad-rim hats were the fashion. Beginning February 4, 2023, and running for eight consecutive weekends until March 26, all roads lead to Quiet Waters Park in Deerfield Beach to celebrate the 31st edition of the Florida Renaissance Festival.
The festival is for all ages, and it's one of the most anticipated major events of the year because it's a memorable, magical, mythical experience for the entire family. This special event features multiple new attractions, as well as popular older ones to guarantee non-stop fun and excitement in this magical kingdom.
Jousting knights, harmonious melodies, wicked wenches, magicians, and more await as festival goers will be treated to delectable foods, fabulous drinks, numerous unique craft shops, live music, and more. The kingdom is a wonderful place for fun, but it's also a great environment where participants can take selfies of themselves in era garb.
While costumes are not necessary for admittance, thousands of people enhance their experience each year by donning outfits from the Renaissance era or participating in one of the festival's special themed weekends.
For tickets and more information visit: www.ren-fest.com; Find us on Facebook or follow @FlaRenFest on Twitter and Instagram. If you prefer the ancient method, call 954-776-1642.