Renowned Artist Jack Amoroso Presents A Lifetime Of Artistry
Thursday November 16, 2017, 6:30PM-9:00PM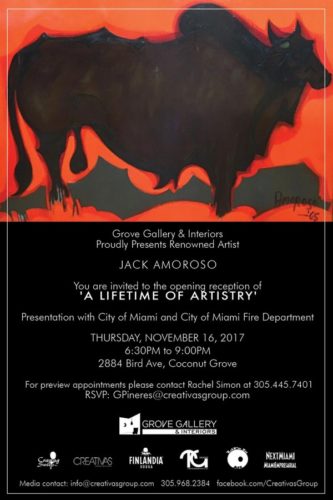 Grove Gallery & Interiors
2884 Bird Ave
Coconut Grove, FL
Kindly RSVP to: gpineres@creativasgroup.com
Art lovers are welcomed to attend a very special opening reception: "A Lifetime of Artistry" next Thursday November 16, 2017 from 6:30PM-9:00PM featuring works by the highly recognized and acclaimed Jack Amoroso. The event will take place at Grove Gallery & Interiors located at 2884 Bird Ave, Coconut Grove.
A recent experience inspired this very special event. Amoroso came home to see smoke rising from the house he shared with Patricia, his wife. The fire, which destroyed many of his life's work, while devastating, is the beginning of a new chapter. He has found a new studio for his paintbrushes, and is back to creating. Amoroso will literally rise from the ashes to display his works.
Jack Amoroso first came from Boston to South Florida at the age of eighteen, and thought it was a "rather groovy place; a place where a young artist could survive." Two years later he made his move to Coconut Grove permanent, and began his long and storied career as a many faceted creative.
Amoroso is a veritable legend of the Grove art scene. A founder of the Coconut Grove Arts Festival, Director of the Playhouse Gallery, and widely exhibited throughout his seventy plus year career, he is highly accredited worldwide.
Dubbed "The Last of the Bohemians," and coming in to his professional own during the 1960s and 70s, he falls in line with other great masters of modernism. Like Duchamps, he turns the most common of objects into art. Like Matisse, Amoroso is a master of color. And like his friend and mentor Picasso, Amoroso utilizes almost every medium, and has perfected the Cubist's perspective.
Event guests will be treated to music, amazing art, and signature martinis courtesy of Findlandia Vodka, and specially selected wines and lite bites by Happy Wine. Special desserts will be presented by Craving Sweets.
The event will feature a special presentation with the City of Miami and City of Miami Fire Department.
Amoroso is the embodiment of le joie de vivre, and this exhibit represents: A Lifetime of Artistry.
"A Lifetime of Artistry" opening will take place