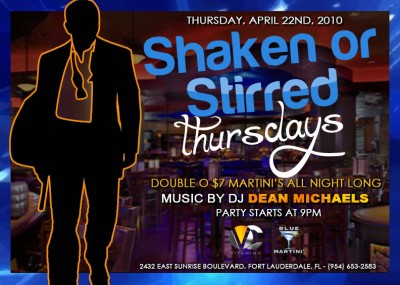 Thursday . April 22, 2010 . Blue Martini Ft. Lauderdale
Vitamin C presents Shaken or Stirred Thursdays at Blue Martini Ft. Lauderdale !
Casino Royale theme featuring:
$7 007 Martini's All Night
Casino Tables played with Funny Money
Blackjack
Poker
Craps
Sexy Bond Girl Dancers
Music by Dean Michaels
Ladies you're in free all night, Gentlemen you're in free till midnight – just mention Vitamin C at the door.
Fun starts @ 9pm
Thursdays is being served anyway you like, email RSVP@vitaminccomm.com for table reservations.