NEW LOCATION
Soul Of Miami 4 Year Anniversary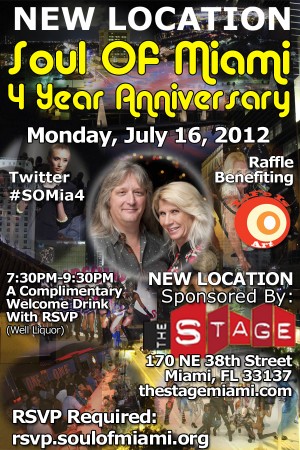 Monday, July 16, 2012, 7:30-9:30pm
DUE TO OVERWHELMING RESPONSE WE HAVE HAD TO CHANGE THE LOCATION!
NEW LOCATION: The Stage Miami
170 NE 38th Street
Miami, FL 33137
FREE
Twitter Hashtag: #SOMia4
Please join James Echols and Annette Peikert as we celebrate four years of going out every night, thousands of hours in front of the computer, many sleepless nights, stress and anxiety. Four years of building a loved and respected local resource, of making many new friends and meeting countless fabulous people. Four years of surprise and delight and hard work and passion. Toast with us to many, many more.
***HELP! We need a few volunteers to help working the door and selling raffle tickets during the event. If you can volunteer for a little bit, please CLICK HERE!
We have already had over 800 RSVPs! Due to the overwhelming response, we have had to change our location! We are moving to The Stage Miami in the Design District. Thanks so much to The Betsy-South Beach for their consideration, we hope to do something there in the future.
Sponsored by The Stage Miami
1 Complimentary Welcome Drink (well liquor) with RSVP
Soul Of Miami was created four years ago on July 16 (click here to see the very first post) entirely by accident. Since then, it has gone on to be one of the most popular local sites. We really enjoy being able to support the community by promoting art shows, fundraisers, business networkers, galas, happy hours and so much more. We hope that you will join us a for a little celebration of the SOUL of MIAMI.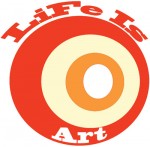 Raffle to benefit Life Is Art
Supporting the arts in south Florida
Raffle takes place at 9:00pm. Must be present to win.
If you cannot make it, but would still like to donate, please click here.
You do not need to donate to party!
RAFFLE PRIZES:
* Wokstar Eleanor Hoh: Cooking Class Certificate, Value $130.00. website, Facebook
* Rodez Art Gallery courtesy of George Rodez: "The Gift of Love" Artwork, Giclee on canvas, 11″ x 11″ gallery-wrapped #127, Value: $150.00. Website, Facebook
* Debra Cortese Designs: Pink Roses Large Classic Tote Bag: A nature's energy business/travel bag in rich hues of rose and honeysuckle pinks accented with Swarovski crystal which shares the energy of love, self-worth and grattitude. Value: $285.00. Website, Facebook
* Pridelines Youth Services in honor of 30th Anniversary: Hamsa 100 mls or 3.3 Fl Oz – for both men and women, Hamsa amulet is a good luck symbol appreciated by all people of faith. Designer Celine Leora developed the idea of using the Hamsa symbol on fragrance bottles. Value: $95.00. Website, Facebook
* Blo – Blow Dry Bar – Midtown: Gift Card (Redeemable only at Blo Midtown), 1 complimentary blo out – WASH BLOW GO. Our signature service. Choose from any one of 7 styles from Blo's Hair Menu. Value: $35.00, Website, Facebook, Twitter @themanemuchacha @bloheartsyou
* Karen Deilke: Tropicana XVI, Acrylic on Paper, 22X30, Est Value: $1200, Website.
* Dine Design and Explore Art: a journey of exploration in discovering the best in the arts and design including a fabulous meal. 4 Passports valued at $124 each. Website.
* 305 Creative Group: Creative Services, Value: $200.00, Website, Facebook
* Laradiva Jewelry: Laradiva Signature Pink Swarovski Gold Hoops. Flaunt this Swarovksi® hoops from day to night! Laradiva signature hoops have been sported by celebs like Beyonce, Nelly Furtado, Britney, among many others. Custom plated. 2.5″. Hand made with love in the USA! Value: $70, Website, Facebook
* PALO!: PALO! t-shirt. Winner selects size. PALO! CD. Plus free admission to any PALO! show through 2012. Prize redeemable in person at PALO! show. Value: $50. Website, Facebook.
RSVP Closed. You can still come, but will need to sign up at the door for your complimentary welcome drink.