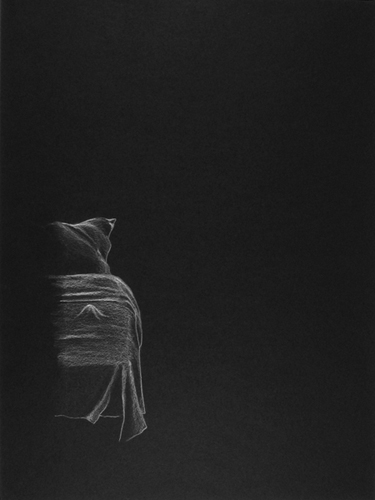 David Castillo Presents
Gustavo Román, Yet Nightly Pitch My Moving Tent
Shelter Serra, Dark Castle
January 9 – February 6, 2010
Reception January 9, 7-10 pm
David Castillo Gallery is pleased to present Gustavo Román's Yet Nightly Pitch My Moving Tent and Shelter Serra's Dark Castle.
In the main gallery, Gustavo Román explores the psychological and physical correlation of sexuality. In Yet Nightly Pitch My Moving Tent, through unequivocal implication of the male form, the artist exaggerates sensuality to the point of undermining manliness. White bedspreads emerge from the darkness and float on a black background as a spectral appearance awakens underneath, pitching a "tent". The small scale of the drawings forces the viewer to become intimate with Román's drawings and their suggestion.
Gustavo Román was born in San Juan, Puerto Rico in 1974 and currently lives and works in Miami, Florida. He received a Bachelor of Humanities from the University of Puerto Rico in 1999, and a Masters of Fine Arts from Florida International University in 2007.
In the David Castillo Annex, Shelter Serra will present a new sculpture alongside a series of paintings and drawings inspired by the processes of digital technology and archetypes of mass media. In Dark Castle, Serra reproduces a Disney-esque Cinderella sand castle in black marble suggesting the permanence and ephemeral state of consumerism. Serra's new paintings and drawings comment on the filtering of information and the notion of serialty. By blurring the line between hand-made and digitally created art, Serra invites the audience to examine technology's role as a determiner of our visual environment.
Shelter Serra was born in Bolinas, California in 1972. He received his Bachelor of Arts from the University of California Santa Cruz in 1994 and his Master in Fine Arts in Painting and Printmaking from Rhode Island School of Design in 1996. The artist has exhibited nationally and internationally. He currently lives and works in New York City.
David Castillo Gallery
info@davidcastillogallery.com
http://www.davidcastillogallery.com
2234 NW 2nd Avenue
Miami, Florida 33127
United States