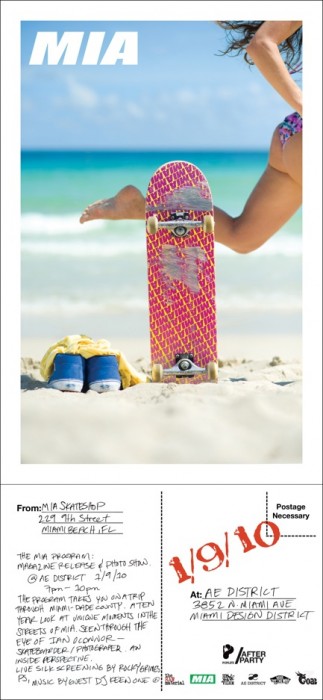 THE MIA PROGRAM – a ten year look at Miami-Dade through the eyes of local skateboarder/photographer Ian O'Connor, both on and off the Skateboard .
"The Program" is a limited edition 100 page printed publication produced solely by skater owned and operated MIA skate shop. It highlights some of the most pinnacle photos not only of skateboarding in Miami, but also in Ian's career. Some of the photos have graced covers of the largest skate mag's in the world, while others have never been seen until now. The Program does not only focus on the act of skating, it also takes a look into what we encounter on the streets of the magic city . Whether lying in the gutters of Liberty City, or hanging out of a helicopter above Biscayne Bay, Ian takes you on a visual trip of one of the most colorful and fascinating cities, all the while documenting some of the finest skateboarders in the world.
In addition to the MIA Program Publication, an event will be held at the AE District on 1/9/10. This event will showcase the Zine as well as Ian's first solo photo show created specifically for "MIA-The Program."
There will be live silk screening from longtime friend/skateboarder Rocky Grimes, who will be printing photos from The Program on t-shirts.
The music will be provided by DJ/MIA skater KEENONE.
A retrospective video of skating for the last 20 years in Miami put together by Josh Stewart, Joe Perrin, and Richard Quintera will be projected.
We will have a Mini Ramp Jam in back of the Gallery (THE GOAT RAMP will be set up)
This will be a chance like never before to see into the real culture of not only skateboarding but also a piece of Miami that has not yet been exposed in its pure and proper form by those who create and live it.
The MIA Program Magazine Release & Photo Show after party will be at Poplife