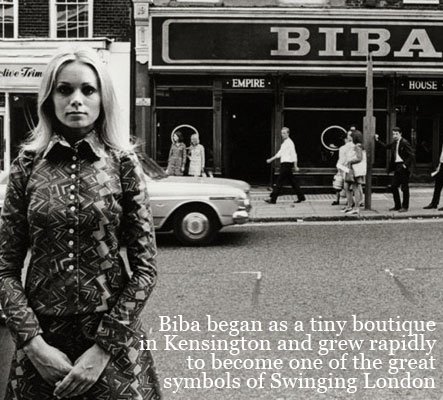 FASHION DIVAS FROM LONDON TO LINCOLN ROAD
Sunday, January 10th
1pm & 4pm
Wolfsonian Museum
1001 Washington Avenue
South Beach
Co-presented with the Wolfsonian Musem and SAVE Dade, The Miami Gay & Lesbian Film Festival presents an afternoon of fashionistas on film. Save Dade will be presenting an information session in between screenings for those interested in registering as Domestic Partners in the City of Miami.
Beyond Biba: A Portrait of Barbara Hulanicki
UK, Louis Price, 2009, 56 min
Barbara Hulanicki will always be remembered for BIBA, the shop that changed the face of UK fashion in the 1960's and 70's. A phenomenon in the truest sense of the word, BIBA has left an indelible mark on the history of British fashion. It was not only the place where celebrities like Mick Jagger, David Bowie, and Twiggy shopped but where arguably the most powerful figure in the world of fashion, infamous editor of Vogue Anna Wintour (the devil in The Devil Wears Prada) got her start.
Just as Barbara was a key ingredient in the cultural explosion that occurred in London in the 1960's, she also found herself at the birth of the incredible regeneration of Miami Beach in the late 1980's and 90's. Barbara still resides in Miami Beach, and continues to work as one of the most respected interior designers in the United States.
Offering a rare insight into Barbara Hulanicki today by sharing her memories from the impossible glamour of BIBA to the murder of her father and taking us on an intimate tour of her home, her studio, and South Beach itself. We witness Barbara's amazing sketches, gain entrance to a private exhibition of them attended by friends and fans like the Rolling Stones Ron Wood and super-models Kate Moss and Twiggy. Beyond Biba is an all access portrait of an overlooked and elusive artist who refused to merely give up and live in the shadow of the past.
Barbara Hulanicki will be present at the screening.
PRECEEDED BY:
Irene William: Queen of Lincoln Road
Dir. Eric Smith, US, 2005, 23mins
Over nine years, self-defined hag fag Eric Smith documented his friendship with an extraordinary elderly lady named Irene Williams. A public stenographer and eccentric fashion fixture on South Beach whose wild and colorful handmade outfits caught everyones eyes. This short film is a hilarious and loving tribute to a woman who was as bright and unique as the clothe she made for herself.
FREE SCREENING
A wine reception will be held in between screenings for attendees.
RSVP Required: Lydia@thewolf.fiu.edu OR 305.535.2644