Sandrell Rivers Day Celebration 2021
Saturday, 08/14/2021-, 06:00 pm-10:00 pm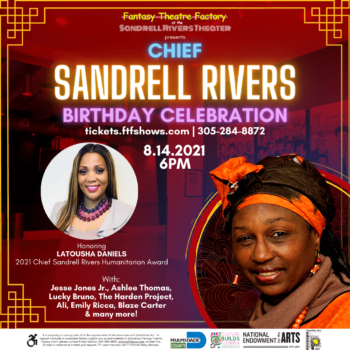 Sandrell Rivers Theater
6103 NW 7th Ave.,
Miami, Florida, 33127
Buy Tickets
Cost: $10
Requiring social distancing? YES
Requiring masks? OPTIONAL
Providing hand sanitizer? YES
Join us for our 4th Annual Sandrell Rivers Day Celebration!
In honor of our namesake Chief Sandrell Rivers' birthday, Fantasy Theatre Factory is honored to present a spectacular evening of distinctly uplifting music, visual art, poetry, fashion and more! Local tastemakers from diverse backgrounds will pay tribute to the life and work of the late and beloved Chief Sandrell Rivers. The entire community is invited to join us for live arts performances, networking, and a cultural celebration in the name of our hometown icon.
FTF's Sandrell Rivers Day will be recognizing a member of the Liberty City community who works to improve and enrich the lives of its residents. This year's recipient is Latousha Daniels, president and CEO of Miami Children's Initiative (MCI).
Co-Hosting this wonderful night will be Ashlee Thomas, president of the Miami Urban Contemporary Experience (MUCE), and renowned actor, aerialist and all-around entertainer Luckner "Lucky" Bruno. With performances by the Jesse Jones, Jr., Quartet; The Harden Project; dancers Alia and Emily Ricca; rap and spoken-word artist and community activist Blaze Carter; FTF's Theater Summer Camp and many more!
Parking Garage- 6104 NW 6th Ct. Miami, FL 33127
ADA Accommodations: It is our policy to comply with all of the requirements of the Americans with Disabilities Act. To request materials in accessible format, and/or any accommodation to attend any Fantasy Theatre Factory event, please contact Evelyn Sullivan, 305-284-8800, evelyn@ftfshows.com, at least five (5) days in advance to initiate your request, TTY users may also call 711 (Florida Relay Service).
COVID-19 Protocol & Practices: Read our guidelines: https://www.sandrellriverstheater.com/reopening
Thank you to our Sponsors: The Sunshine Jazz Organization, The Miami-Dade County Department of Cultural Affairs and Cultural Affairs Council, the Miami-Dade County Mayor and Board of County Commissioners