LOVE ADDICT The Emotional Suicide Of FUNKdalena – Part of  The Third Season Of MICROTheater Miami
Sept. 14, 2012 – Oct 14, 2012, 8:00pm  – 11:00pm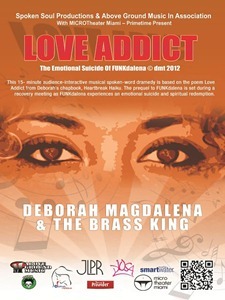 Koubek Center
2705 SW 3rd Street
Miami 33135
www.funkdalena.com
 
FUNKdalena GOES PRIMETIME
 
After the huge success of the album release and standing room only special performance of Deborah Magdalena's FUNKdalena, it should come to no surprise that its prequel LOVE ADDICT The Emotional Suicide Of FUNKdalena has been handpicked by MICROTHEATER Miami to be a part of their upcoming PRIMETIME line up.
 
Premiering on Friday September 14, MICROTHEATER Miami returns with its third season presenting more than 20 original short plays with the theme that is revolutionizing the world Love "Por Amor". Making LOVE ADDICT a perfect fit.
 
This15- minute audience-interactive musical spoken-word dramedy is based on the poem LOVE ADDICT from Deborah's chapbook, Heartbreak Haiku. LOVE ADDICT is set during a recovery meeting as FUNKdalena experiences an emotional suicide and spiritual redemption. The talented cast of Deborah Magdalena, her producing partner The Brass King and rotating guest artists will perform LOVE ADDICT six times per night in a five-week run at Miami DADE Community College's historic Koubek Center as a part of MICROTHEATER Miami.
 
MICROTHEATER was created in Spain and is a theatrical festival presenting multiple short plays (15 minutes long each, in English or in Spanish) in compact black-box theaters for no more than 15 spectators at a time. With the support and participation of Miami Dade Community college MICROTHEATER will debut a new format on Thursday nights called MICRODEBUT with plays written, directed and starring MDCC theater students. MICROTHEATER PRIMETIME (Friday – Sunday) will consist of 9 short plays fully produced by the best and most seasoned actors and production companies known internationally. MICROTEATRO SESIÓN GOLFA features edgier  stories which will be perfect for Miami's late night audiences.
 
With over 60 actors, writers and directors participating in this cultural event, LOVE ADDICT as the only English speaking play is sure to be a stand out. Join us and be a part of this unique and innovative theatrical movement.
 
Showtimes: 8:00, 8:30, 9:00, 9:30, 10:00 and 10:30.