By Tatiana Enriquez
Get to know local Artist JC Bravo: an artist who's imagination and intuition are directly proportional to the size of the heads and noses of his Cabezones.
Isaac Newton once said, "I don't know what I may appear to the world,  but to myself I seem to have been only like a boy playing on the seashore, and diverting myself in now and then finding a smoother pebble or a prettier shell than ordinary, whilst the great ocean of truth lay all undiscovered before me."  Like Newton,  Artist JC Bravo, one of the most prolific artists in our city, still feels that there is much more to be done, and much more to express and uncover through his artwork. His works are larger than life and expose and inflate sensitivities and hidden desires.
More about JC Bravo
 JC Bravo was born in 1974 in Ica, Peru. He graduated with a Bachelor of Fine Arts from Florida International University. His artworks are influenced by his experiences growing up in the dichotomous countries of Peru and United States.Bravo's works include painting, drawing and installation. They are influenced by the "opulence and underside of American Culture".  His "Cabezones y Narizones "(Big Heads and Big Noses) are trademarked characters with exaggerated and disproportionate features.  Bravo explains, "These iconic characters with their swollen heads and bulbous noses personify abundance and sensuality." Bravo uses these characters to …"express emotions, while creating surreal narratives that use irony and humor as tools to create social commentary. His work references Pop culture, religion and art history, as well as his own life.".
When asked about his inspiration, Bravo explains "my inspiration comes from my life experiences. I love creating images that are inspired by dreams, memories and the people I encounter on a daily basis. I believe art has the power to transform our mundane experiences into something magical, it is like turning ashes into gold. My work is also influenced by art history and pop culture. I love watching films by David lynch and Federico Fellini, reading art biographies, listening to punk rock and browsing the internet for powerful images. Â Surfing also inspires my art. I have been surfing since I was 15 years old and I have experienced many poignant and beautiful moments in the beach which have shaped my aesthetics."
Bravo's thoughts on the Miami art scene are that "…the Miami art scene is flourishing. It is wonderful to be able to go to museums and galleries all year round and see quality art. It's also a tremendous gift to have art Basel in Miami; every year we have the privilege to be able to witness the best of the best displaying their work. All the street art is super exciting, it makes commuting quite enjoyable. My favorite places to visit in Miami are the Bakehouse Art Complex, the De La Cruz Collection and Lowe Art Museum. So much art to see and so little time!"
When asked how we can help the scene grow, he says " I think we can make it grow by creating strong art; art that the world cannot deny will bring more critical attention to our city. By that I mean that we cannot just focus on creating decorative and colorful work. For the art world to take Miami seriously we need to create art that resonates with current issues and deals with the human condition, less vanity and more substance. There also needs to be more support from local artist from Miami collectors, that way artists can have more opportunities to explore and create without selling their souls. Instead of just buying work from known international names, collectors need to take a chance and Support local galleries and artists."
Bravo gives back to his community and encourages others to do so. He has donated art work to the Miami Children's Hospital and the Hollywood Art and Culture Center for their annual fundraiser show Abracadabra.
When asked for his advice for new and emerging artist, Bravo offers, "success depends on your ability to network, social skills. You can be the best painter in the world but if you don't work on your people skills it will be a very hard road. Artists depend on patrons and collectors and those are people one has to establish strong relationships with. Kindness and respect goes a long way. Also,stay in touch and support other artists and you will build friendships that will help you along the way.  Work hard all day, everyday. Skip the parties and avoid vices, they are time consuming. The more you work the better your work will be. Instead of just painting stuff you like create work that expresses the way you feel and comments on society. Spill your guts out and people will like and respect you."
So what's next for JC Bravo?  He says, " I am currently working on a new series of large surreal paintings that deal with my obsession with the ocean and post-apocalyptic movies. This series is going to be called "Waterword" and it will be my most radical work to date.  This new body of work will be exhibited at a solo show next year. Also, for next year I plan to unveil my fine art store called Bravo Arts were we will be offering Limited edition prints and original works for sale."
Medium:
Oil on Canvas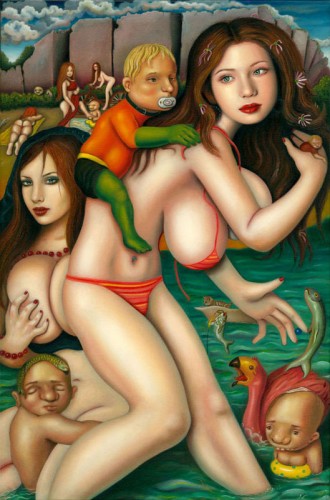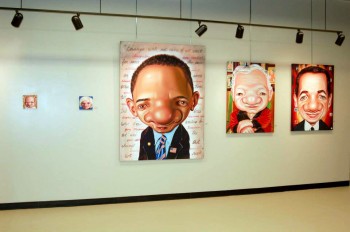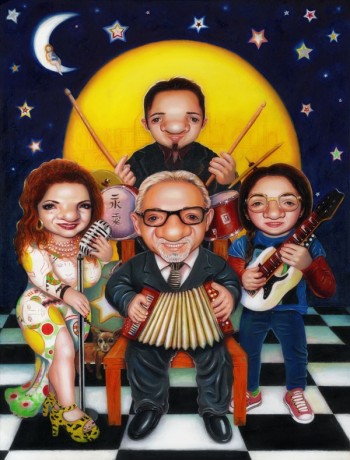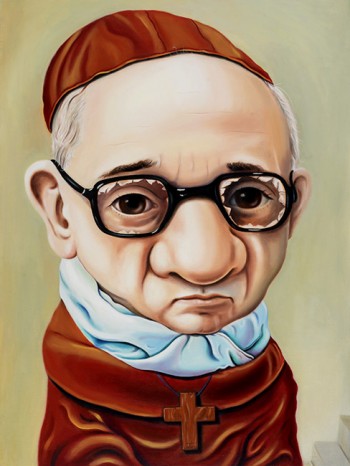 More of JC Bravo's work can be viewed at www.jcbravo.com