Artist Kai Guetta
By Tatiana Enriquez
Get to know West Coast artist Kai Guetta; straight outta Cali reppin' Hip-Hop Royalty.
"I come through your hood, stuntin' in my yellow Lam Murcielago..I do a little house shoppin', and buy me a crib… I touched the Hollywood paper, go and shoot me some flicks…" These lyrics, from Fifty Cent's "Position of Power", play in the back of my mind and juxtapose the stately portrait of his image as depicted by artist Kai Guetta in his "NOW ROYALTY" collection; a series of paintings depicting Hip-Hop artists in 17th century garb reserved for the nobility of the time. Fifty Cent was the first artist Kai chose to depict in this series; which was inspired by his love for hip hop and his respect for the old masters.
More About Kai:
Talent flows through Kai's veins. This is no surprise as he is the nephew of renowned street artist Mr. Brainwash (Thierry Guetta) who became famous after his participation in the Banksy documentary Exit Through the Gift Shop. Mr. Brainwash has been a regular at Art Basel, and is the mastermind responsible for the stormtroopers installation at the Boulan South Beach at Art Basel 2010.
Kai started out as a street artist in LA at the age of 14 when he began a quest to get his father to stop smoking by plastering the city with a series of clever images which he called his "Morons" campaign.  He slowly created a buzz within the street art community and concentrated his focus on addressing social issues like consumerism and addictions. By the young age of 18, Kai was becoming more and more known and was asked to participate in a documentary series for Hudson Jeans. This caught the media's attention and he was mentioned in Los Angeles Magazine as one of the forefront street artists of his time. He went on to study at CalArts and Ecole Nationale Superior Beaux Arts Des Paris. His style has been said to be a combination of  Damien Hirst, Banksy, Koons, Rembrandt, and Anthony Van Dyke all in one.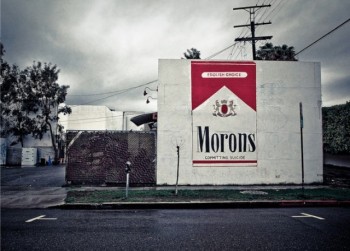 I caught up with Kai over the phone from his home-base in LA as he prepares for the launch of the Miami exhibition of his "NOW ROYALTY" collection at LULU Laboratorium (173 NW 23rd Street   Miami, FL 33127) on March 27th during Miami's Winter Music Conference, and he shared his inspiration for this collection and much more:
TE: Which of the "NOW ROYALTY" pieces are your personal favorites and why?
KG: This is a very personal collection and I don't know if I have a favorite piece. Fifty cent was the first piece and I continued from there. Each one has unique details, and captures a persona.
TE: You've had several requests for portraits from the likes of Lil'Wayne and Lady Gaga. What has the response been from other artists you have depicted?
KG: It's a great feeling for others to appreciate my work. It was an amazing feeling when P'Diddy tweeted about the piece I created of his likeness. It is so much more fun when regular people see it though. Their eyes light up, and it's more interesting to me to see their reaction to their idols depicted in this way.
TE: How did you go about choosing which artists to portray in the styles and poses chosen?
KG: I'm a huge hip-hop fan, so I definitely wanted to portray hip-hop artists. I wanted to make sure that I captured not only each artist's real life personality, but also their huge hip-hop personas. The styles and poses chosen just came to me as I thought about their personalities and style.
TE: Do you have any plans to continue this series depicting musicians of other genres?
KG: This series was inspired by Hip-Hop and I don't have plans at the moment to venture out to other genres.
TE: As you probably know, Miami loves it's street art and it would be an honor to have you represented in our streets. Do you have any plans to grace our walls with your amazing work?
KG: I love Miami. I won't get a chance to work on any other projects this time around, but I do have plans to come back. I really want to do something for the city.
TE: Given that your work is grounded in social commentary, what message do you hope to convey with this series?
KG: I got my start as a street artist and listened to hip-hop while working on my pieces. Over time, my father approached me and asked me to respect art if I planned to make a career out of it. I went on to study the works of great masters such as Van Dyke and the kings, queens and nobility they depicted in Europe. It was then that it occurred to me that in American society; although we don't have established royalty or nobility, our versions of kings and queens are our hip-hop artists. They don't own grand horses or have servants like the nobility of the past, but their horses have been replaced with grand vehicles, posses and assistants that cater to their every need. American society idolizes them the same way royalty was idolized in the 17th century. We want to talk and dress like them. We want to wear their luxurious jewels and clothes. The ironic twist in this series is  that many of these musical artists went from rags to riches. They are people we can look up to. They are also African-American and would not have been painted and depicted as nobility and royalty in Europe during that time.
Miami can't wait to view Kai's "NOW ROYALTY" collection, and most definitely cannot wait to see what Kai has in store for our streets!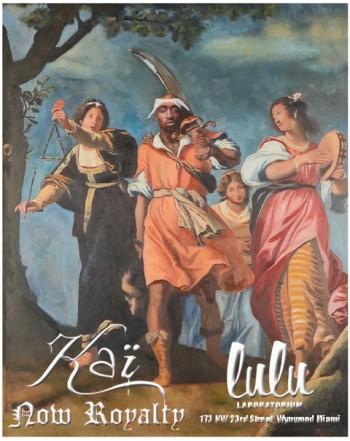 Copyright This is Not Art LLC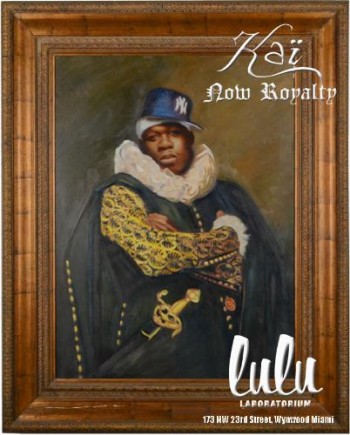 Copyright This is Not Art LLC