Artist Paul Urdahl
Get to know local artist Paul Urdahl: An artist with endless possibilities!
By: Tatiana Enriquez
"The Great Perhaps" were the last words of the poet Francois Rabelais, and author John Green brought these words back into our vocabulary in his novel Looking for Alaska. It's a great phrase because it reminds us that there is adventure yet to be had, and that there is beauty and excitement in not knowing exactly what's going to happen all of the time. In discovering the work of local artist Paul Urdahl, I was reminded of these words and learned that it's a philosophy he shares as well. When creating his abstract, vivid and  colorful pieces, he prefers the unpredictability of pouring vs. the more controlled brush method because he feels it's important to "embrace the unexpected things in life and go with the flow". The result is the  limitless possibilities and freedom expressed in his pieces.
More about Paul Urdahl:
Paul Stephen Urdahl resides in Surfside, Fl.  He studied Interior Design and has worked for over two decades as a Lighting Designer.  Painting has always been a passion of his and is another outlet for him to release his creative energy. His style has evolved from structured to geometric to more free-flowing and organic. His paintings are based on the four classic elements; Fire, Air, Water, and Earth. He uses bold and  dynamic colors such as reds and oranges,  muted smoky tones, soothing and calming colors, and warm comforting tones.
Paul says that his inspiration comes from "…many different things. I love the amazing colors, shapes, and textures found in nature and that is my main inspiration." He observes that "…the Miami art scene seems to be growing at a very rapid pace." He believes this is in "…part due to the international recognition we receive from Art Basel. [We also have] the Second Saturday Art Walk in Wynwood. It brings out an eclectic mix of people enjoying art, music, and food from the popular food trucks…First Friday Art Walk in Downtown Miami is also very exciting. The new art museum downtown is also going to draw a lot of international art lovers to Miami." Paul feels that we can help the Miami art scene continue to grow by "promoting Miami's art scene via media and social media". When asked what words of advice he would give new artists, Paul says "Be patient and get your art out there to be seen. A very easy way to show your art is via social media such as Facebook, Instagram, Pinterest, and Twitter. It's a great no-cost way to be seen by thousands of people. Also, contact restaurants, salons, offices and offer to hang your work on consignment. They get art with no investment and you get to show your art to the world. [Last, but not least] participate in local art shows."
So what's next for Paul Urdahl, what can we expect to see?  Paul enthuses, "I'm planning on creating some functional art which combines LED lighting and sculpture.  Like my Elements Etc. page on Facebook to see all my latest creations and find out about my upcoming shows!"
Mediums
Acrylics
Paper
Vintage magazines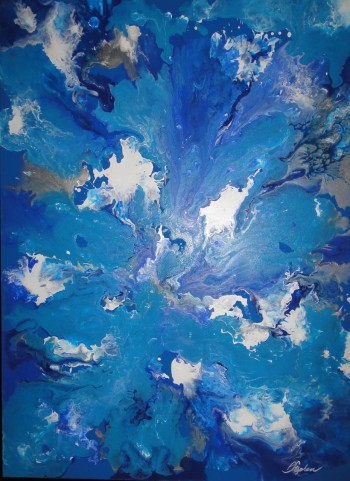 "Unity" Copyright Paul Urdahl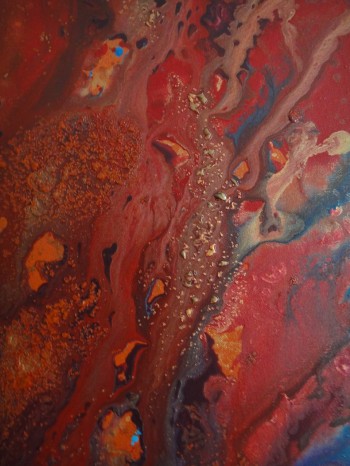 "Collide" Copyright Paul Urdahl
 Exhibitions and Awards
Fuses Studio-Pancakes and Booze Art Show
Miami Gab Studio- Wynwood Art District Miami
AWA Gallery-Abstract Show Fort Lauderdale
Gallery 101 Fort Lauderdale
First Place-Gallery 101 Abstract Show Fort Lauderdale
Third Place 12" x 12" Show Gallery 101 Fort Lauderdale
Contact and Follow at:
Virtual gallery at www.elementsetc.com . Summer Sale savings can be found in the Elements Etc. eSho
***Prices range from $25.00 for the Mini Element Gift Sets to $3,500.00 for a large scale stretched canvas piece. All pieces are framed or have finished edges, so they are ready to hang.