"Ofrendas" and Florida Día de los Muertos at History Fort Lauderdale
Sunday, 10/03/2021-11/02/2021, 10:00 am-04:00 pm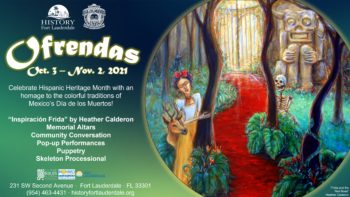 History Fort Lauderdale – New River Inn
231 SW Second Avenue,
Fort Lauderdale, Florida, 33301
Website
Cost: $15 adults; $12 seniors and $7 students. Free for members, military and children ages six and under. Some events are free.
Requiring social distancing? NO REPLY
Requiring masks? NO REPLY
Providing hand sanitizer? NO REPLY
History Fort Lauderdale, proud steward of our community's past by making our heritage accessible and engaging to residents and visitors, invites guests to celebrate Hispanic Heritage Month with "Ofrendas," its annual homage to the colorful traditions of Mexico's Día de los Muertos. This year's cultural exhibit, opening Sunday, October 3 and running through Tuesday, November 2, will showcase "Inspiración Frida," a fine art exhibition by Heather Calderon, and creative community memorial altars or "ofrendas" covered in photographs, flowers and favorite items of the dearly departed plus performances throughout the duration of the exhibit.
"Ofrendas" will kick off with a Family Fun Day opening ceremony on October 3 with Simply Puppet's shadow puppet storytelling followed by an in-person (and live streamed) Community Conversation about the history of Día de los Muertos later in the month and a closing event Florida Day of the Dead Celebration Skeleton Processional along the Riverwalk and New River Inn.
Activities and events for this year's "Ofrendas" are as follows:
Sunday, October 3, from 11a.m. – 3 p.m.; "Ofrendas" and "Inspiración Frida" Opening;
Free
Celebrate another year of life and the remembrance of loved ones in preparation for Día de los Muertos. Enjoy art, dance and of course, puppetry featuring Simply Puppets' "Godmother Death" and sugar skull characters from Florida Day of the Dead. RSVP at https://bit.ly/HFLOfrendas2021
Monday, October 18, at 6 p.m.; Community Conversation: Día de los Muertos
Open to the public. Suggested donation of $10.
Join History Fort Lauderdale for a live (and streaming) Día de los Muertos Community Conversation with the Consulado General de Mexico en Miami and Instituto Cultural de Mexico.
RSVP required at https://bit.ly/HFLOfrendasConversation2021. Doors open at 6 p.m., program begins at 6:30 p.m.
Tuesday, November 2, at 6:30 p.m.; Florida Day of the Dead Celebration's Skeleton Processional; 4 – 8 p.m. Exhibition Closing Event; Free
Bring your family to History Fort Lauderdale to experience South Florida's internationally renowned 12th Annual Skeleton Processional featuring giant sugar skull puppets, beautiful costumes, music and more! Plus, it's the last chance to view the "Ofrendas" exhibition from 4 – 8 p.m. Sponsored by Riverwalk, City of Fort Lauderdale, Damn Good Hospitality, Puppet Guild of Fort Lauderdale and Puppet Network.
In compliance with health guidelines, visitors to History Fort Lauderdale will be required to wear a mask and practice safe social distancing. Hand sanitizer will be available at the front desk admission point and all surfaces will be thoroughly cleaned multiple times a day, per CDC guidelines. Additionally, guests will be asked to sign-in, daily, for contact tracing.
History Fort Lauderdale is proud to showcase a variety of annual multicultural exhibits highlighting Latin, African American and Caribbean artists sharing their views of history. Permanent exhibits include "From Dugouts to Dream Yachts," a history of the city's yachting rise to fame, "The Bryans of Fort Lauderdale" as told through the pioneer family that shaped its development from an agricultural outpost in 1896 to a bustling city in the 1920s to its current status as a leading Metropolis, plus "Archaeology of the New River" and a multitude of narratives and photos sharing the history of other founding families of Fort Lauderdale.
History Fort Lauderdale admission is $15 for adults; $12 for seniors and $7 for students (through age 22 with a valid student ID). Admission is free for members, military and children ages six and under. Tickets are available online at http://bit.ly/HistoryFortLauderdaleTickets.
For more information about History Fort Lauderdale, please call (954) 463-4431 or visit us online at historyfortlauderdale.org. Follow us on Facebook at facebook.com/ftlhistory and on Instagram @ftlhistory and subscribe to us on YouTube at youtube.com/user/FTLhistory.