ARTundressed 2016 Creative Nude Art Festival
Thursday, 05/19/2016 – 05/21/2016 06:00 pm – 12:00 am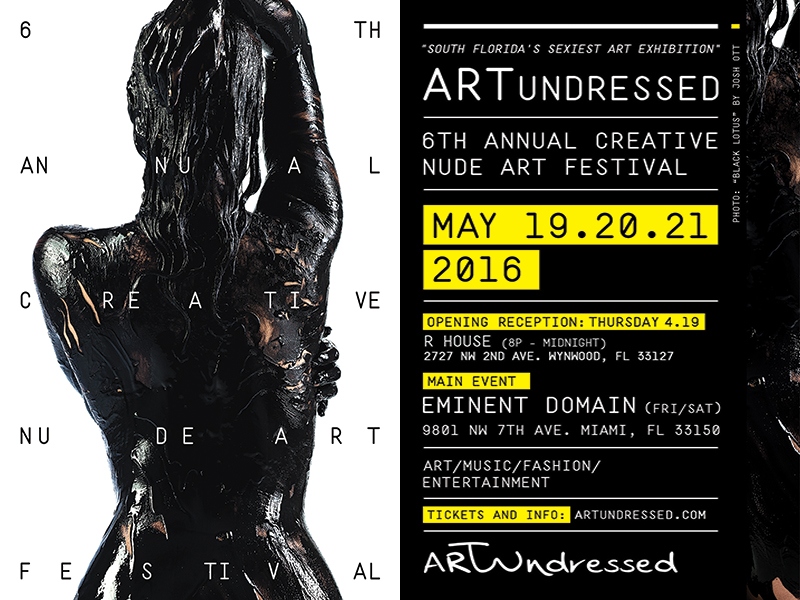 Eminent Domain
9801 NW 7th Avenue,
Miami, Florida 33150
Website
Cost: Check website
South Florida's Sexiest Art Exhibition returns in 2016
Explore the fiery sensuality of the human form at ARTundressed – A Creative Nude Art Festival. Featuring works from emerging and established artists from around the world, the festival is part entertainment and part exhibition: a carefully curated showcase of truly creative, truly original, and truly erotic artwork, and a multi-day extravaganza with live music, performances, interactive workshops and activities; celebrating the human body and spirit in its most innate state. ARTundressed enables art collectors, enthusiasts, as well as the general public to discover artistic talent in both visual and performance aspects of the nude art genre.
This year, ARTundressed 2016 will take place at two locations:
This year, ARTundressed 2016 will take place at two locations:
• Thur. May 19th, 8pm – Midnight — The Opening Reception at R HOUSE (2727 NW 2nd Avenue, Wynwood, FL), welcomes participating artists, performers, contributors, staff and the public to mingle and enjoy a great night of reprised nude art, plus entertainment by some of South Florida's finest burlesque dancers and sketch artists.
• Fri. May 20, 6pm – Midnight & Sat. May 21, 4pm – 10pm –– The Main Event is at EMINENT DOMAIN – (9801 NW 7th Ave., N. Miami, FL). Expect to experience something different each day with multiple themes covering Burlesque and Circus acts, and Fetish Performances. Get ready to join in the interactive activities and various workshops that are designed to engage the attending guests and convert them from observers to participants.
Event Highlights:
• Art Exhibition showcasing over 200 exceptional curated art pieces
Representing the work of m
• An impressive collection of creative erogenous artworks hardly seen
• More than 60 participating artists are planning to attend the Exhibition
• Participation and art installations by local and international artists, performers
• Live shows and performances; Live music, deejays; Chic Provocative Fashion
• Fetish Fashion Show by Von Guttenberg Magazine
• Theatrical and Choreographed performances by CircX
• Cine Noir – Showing a collection of Erogenous Short Films, Videos, and Animation
• Live Art Workshops and Interactive Community Art Wall for guests participation
• Art contests for Body Painting; Live Drawing and Photoshoot Sessions
• Catering Services offering appetizing food, beverages, and cocktails
• The Closing Party: "the GOOD, the BAD, and the NAUGHTY" (Saturday night)
We are looking for Volunteers and Performers… If interested, sign up on the website: www.artundressed.com
PLEASE NOTE: All Press/Media personnel must apply for accreditation and acquire proper Press Passes for coverage of the ARTundressed '16 Creative Nude Art Festival. Info and Registration Forms for 'Press Pass Request' can be found in the |PARTICIPATE| menu at the top section of the event site.