Ostaria Boccadoro has the Best Seafood in Venice
By Ari Kane, Photographs by Daniella Veras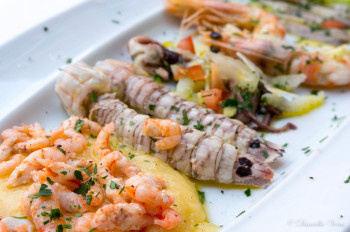 Strolling along the narrow sidewalks off the beaten tourist path, we were not sure if we were lost or just mesmerized by the color and novelty of this place. That is until we came across a quiet little square where we found Ostaria Boccadoro.
Do you know how you can gauge the freshness of a seafood restaurant? When, as you are having a drink (or in when in Italy, an aperitivo) the morning catch is dropped off at the restaurant for lunch.  The exquisite Ostaria Boccadoro, is located in the magical and unique city of Venice.  The name Boccadoro, translated as "golden mouth" from Italian (bocca d'oro), suits this place divinely.  The owner Chef Luciano Orlandi is profoundly charming and quite funny. The fanciful and refined restaurant specializes in offering the freshest seafood. Their menu is highly dependent on what's available at the Rialto market. Even the napkins, made of fine linen, appeared freshly pressed. Our sweet, cool and sexy bartender/waiter/friend Luca made us amazing drinks upon arrival.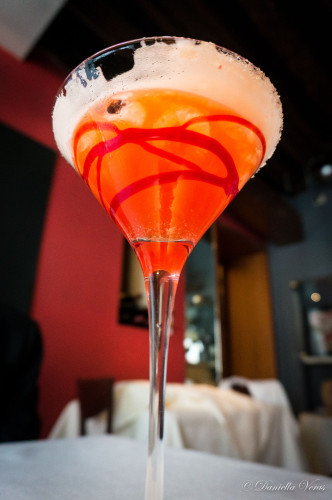 Chef Luciano was on vacation, which meant that instead of cooking in the back, he was serving and, literally, entertaining his guests up front.  His theology on cooking is dedicated to the concept of "keeping it light." He utilizes the finest olive oil, light flour, fresh ingredients and no butter, so his patrons are not bloated and sleepy after your meal. He believes you should be able to eat a fantastic meal and still go on with the rest of your day and without the fatigue generally associated with carb-rich, Italian cuisine.
What inspires him? Interestingly, his own personal preferences. Chef Luciano only prepares dishes that he likes and he hopes his patrons will like it too. Â In an area that has become as touristy as Disney, this level of authenticity is refreshing to find. We are confident that you, too, will enjoy each course as much as we did.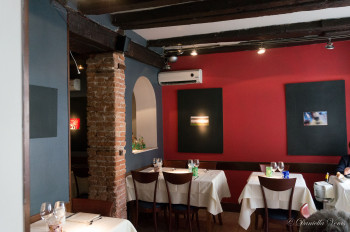 The chef has a gift of knowing what a dish will taste like, based on the ingredients and seasonings, before even tasting it. He claims (jokingly) that he was born in a kitchen. He shifts the menu according to the seasons and how they affect people's tastes and inclinations.  For instance, in the summer he'll prepare lighter and fresher courses, whereas in the winter, he'll prepare warmer, comfort food type plates.
The Sea Bream with Honey, Strawberries and Pomegranate Seeds was airy and surprisingly not too sweet. Sea bream is a very versatile white meat fish that, in this rendition, possessed an extremely mild taste (given that it was caught only a couple hours ago) with a modest zing at the end.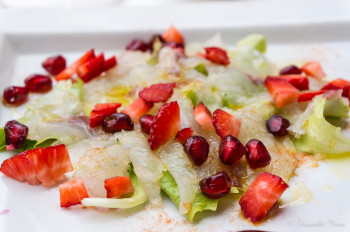 The crisp and succulent Tuna Tartar was served on a bed of baby lettuce greens with a rich balsamic glaze on the plate creating a beautiful compliment to the tuna.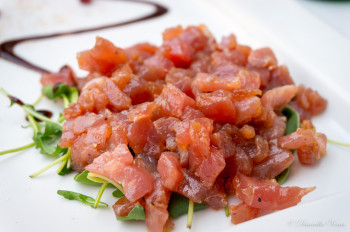 Next, we were served the best Seafood Platter we have ever had! It was sensually sexy and sizeable. It included the best anchovies we had ever had as well as delectable and juicy baby octopus, baby shrimp and sea squalls over polenta. It also included superb spider crab and sautéed mussels. It was a magnificent and diverse orgy of dazzling seafood that we devoured with such glee.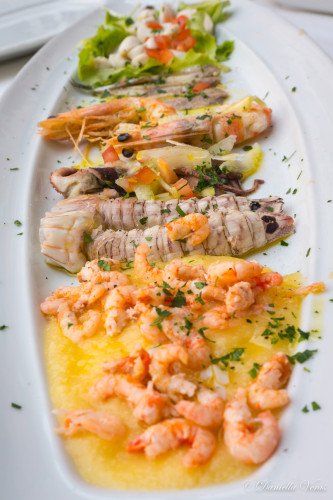 The Clams were grilled sensationally in their shells and presented gorgeously. They were so flavorful and addictive and did not last long on the platter. While we are huge proponents of the slow food movement, these beauties were gone quite swiftly.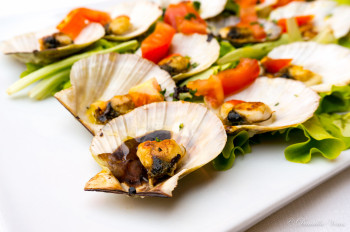 The Black Tagliolini with Artichoke and Scallops was outstanding. The infallibly cooked pasta with amazing scallops and ripe soft artichokes were astonishing. There is something so exotic about eating black noodle pasta that makes the dish so much more alluring.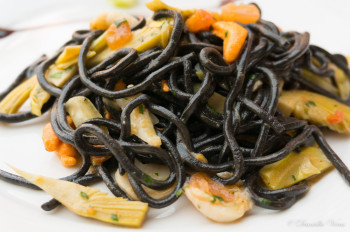 The Gnocchetti with Spider Crab was the lightest gnocchi ever! It was harmoniously combined with the crab sauce for a soothing and comforting flavor. No ingredient overpowered the other, allowing you to taste each and every delicate flavor.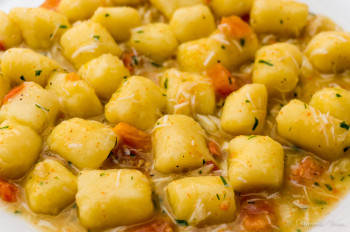 The Fresh Sea Bream served with artichoke, fresh tomatoes was the softest, most silky fish that we have ever consumed. It's like they draped the dish in invisible silk and it just slid it down our eager throats. The taste and texture were so addictive that we barely wanted to share it with each other. This was the same fish that was delivered to the restaurant while we were having our pre-meal aperitivo. It was served to us mere hours after it was caught in the Venice waters.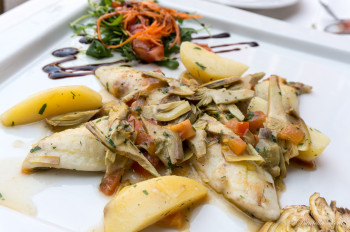 The desserts we had were just as delicate and magnificent as the rest of the meal. The Five Chocolate Mousse was incredible with all the diverse chocolates melding together for a unique and addictive new chocolate flavor.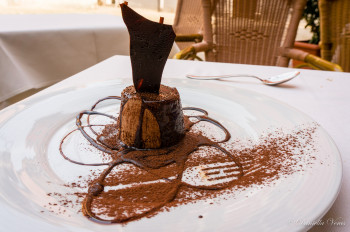 The deliriously seductive Warm Lava Cake with Orange was ridiculously creative and makes you surrender to its powers. It was the by far the best and most original lava cake we have ever experienced. We had had dozens of lava cakes and they are usually all good, but this one was phenomenal. It had a similar mesmerizing chocolate taste but it also contained a hint of orange that elevated it far above all other lava cakes. The chef makes other versions of this sublime cake with mint and other flavorful surprises he may be inspired by.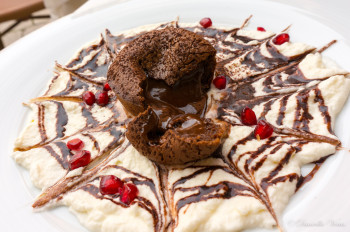 After lunch, he invited us for a quick trip around Venice on his boat with his beautiful family. His wife and daughter were so sweet and friendly. We talked about his food philosophy and his beliefs about sustainability and providing the freshest ingredients. Such is his commitment to providing the best, he showed us his personal garden where he grows the ingredients used at Boccadoro organically.
Watching Chef Luciano tend to his garden really illuminated the love, dedication and commitment he has to the earth and his craft. These is a Chef who enjoys getting his hands dirty to plant, care for and check on his vegetables, which are the building blocks for his gifted cuisine. It all starts great ingredients infused with love from garden to plate.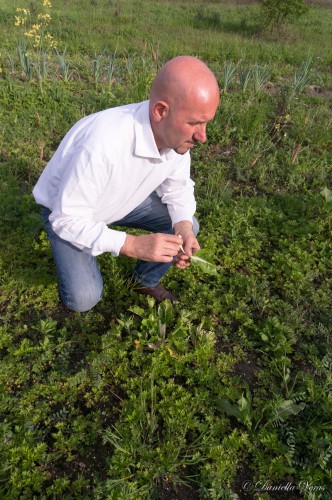 We had such a fabulous time with Chef Luciano. It was an experience of a lifetime and one of the best meals we have ever had. Ostaria Boccadoro is already included in the Venice Michelin Guide and we are confident that a well-deserved Michelin star will be coming his way in the near future. We plan to bring Chef Luciano to Miami for a very special dinner party, so stay tuned. Un then, next time you are in Venice, Â you MUST eat at Ostaria Boccadoro.