Oxenberg presents Meet the Artist Luncheon, Cesar Santos
Saturday, 02/09/2013, 01:00 pm – 03:00 pm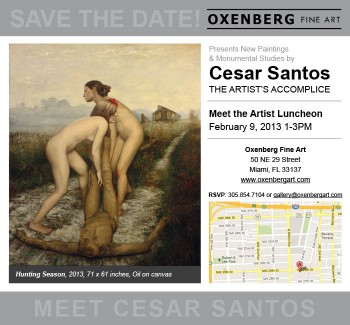 Oxenberg Fine Art
50 NE 29 Street,
Miami, Florida 33137
Webpage Link
Oxenberg Fine Art cordially invites you to this special program hosted by Cesar Santos, who will share his professional trajectory, art and experiences that have influenced the paintings and monumental studies featured in the "Artist's Accomplice" exhibition.
Cesar Santos
"The Artist's Accomplice"
Paintings and Monumental Studies
Cesar Santos (Cuban-American, b. 1982) has worldly art education, with works viewed around the globe- from the Annigoni Museum in Italy and the Beijing Museum in China, to Chelsea, New York. Reflecting both the classical and modern, Santos' influences include the Renaissance, masters of the nineteenth century and Modernism. With superb technique, he infuses a harmony between the natural and the conceptual to create works that are provocative and dramatic.
In this premiere solo exhibition, Santos focuses on the influence of his studies in Florence, Italy under an apprentice of Pietro Annigoni (b. 1910-1988) who was active in the innovative "Modern Painters of Reality" movement. In addition to Santos' noteworthy paintings and respective studies and sketches, a mannequin is also on view, representative of the mannequin in Annigoni's works which signified the human condition in the modern age; Santos rescues Annigoni's concept of the mannequin and gives it a new life in the twenty-first century.
For additional information on the artist, please visit: http://www.oxenbergart.com/cesar-santos/