24th Annual OUTshine LGBTQ+ Film Festival Miami April 22 – May 1
Friday, 04/22/2022-05/01/2022, 07:00 pm-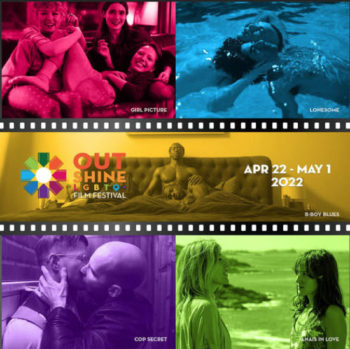 OUTshine Film Festival
6360 NE 4th Court,
Miami, Florida, 33138
Website
Cost: Prices for individual films start at $8 each with group discounts. Memberships and additional offers available
Requiring social distancing? NO REPLY
Requiring masks? NO REPLY
Providing hand sanitizer? NO REPLY
The OUTshine LGBTQ+ Film Festival Miami is back – bolder, brighter and in-person beginning April 22! Internationally acclaimed as one of the largest LGBTQ+ cultural festivals in the world, OUTShine returns for this 24th edition to unite the community through premier social events and programs that inspire, entertain, educate and encourage a sense of community. This year, more than 45 international features and documentary screenings, panel discussions, three shorts programs, exclusive virtual showings, picturesque venues, Cocktails & Cinema Happy Hours and incredible parties will take place across various venues in Miami-Dade County through May 1. The festival will also honor Venezuelan actress, model, and philanthropist Patricia Velásquez with a Vanguard Award.
On April 22, at 7 p.m., at the Black Archives – Historic Lyric Theater, a festival first, the program opens with the South Florida debut of the African-American comedy-drama "B-Boy Blues" (2021), based on the 1994 groundbreaking, and beloved classic book by James Earl Hardy. Producer Circle Members and sponsors will enjoy a 5:30 p.m. pre-event Filmmakers Soirée. An opening night party will also follow the film with guest of honor and Vanguard Award winner Patricia Velásquez. Velásquez is best known for her portrayal of Anck-su-namun in "The Mummy" (1990) and its sequel, "The Mummy Returns" (2001). She has appeared in numerous other films including "The Curse of La Llorona" (2019) and television shows including "Arrested Development" and "The L Word." She is the founder of the Wayuu Taya Foundation which is dedicated to aiding Venezuelans struggling along the Colombian border. She was appointed the UNESCO Artist for Peace and is a Goodwill Ambassador at the Organization of the American States.
The next night, at 8 p.m., at Regal Cinemas South Beach, OUTshine focuses on romance with its Ladies Spotlight Film, "Anaïs in Love" (2021). On April 28, at 8 p.m., enjoy a feast for the senses at Miami Beach Botanical Gardens during the South Florida premiere of the festival Centerpiece film, "Girl Picture (Työt Työt Työt)" (2022), a Sundance Film Festival Audience award-winner. An after-party will follow. For the Men's Spotlight film, it's an evening of erotic romance on April 30, at 8:30 p.m., at Regal Cinemas South Beach as two young men make a connection neither of them expects or knows how to navigate in the Australian feature "Lonesome" (2021).
Special not-to-be missed films include the North American premieres of "All Our Fears" (2021), a Polish drama directed by Lukasz Ronduda, and "Swing Ride (Calcinculo)" (2022), an Italian-Swiss drama from Chiara Bellosi plus the U.S. premiere of "What We Know (Lo Que Sabemos)" (2021), a Catalan romance from director Jordi Nunez. Other notable award-winning entries include "The Divide" (La Fracture)" (2021), a French Comedy-Drama directed by Catherine Corisini and winner of the Queer Palm (Best LGBT Film) – Cannes Film Festival, "Finlandia" (2021), a Spanish romance from Horacio Alcala, "Framing Agnes" (2021) a Sundance Next Innovator award-winning trans documentary from director Chase Joynt and "Private Desert (Deserto Particular)" (2021) by Aly Muritaba, a Brazilian submission to the 94th Academy Awards.
OUTshine wraps it all up on May 1 beginning at 6 p.m. at the Sandrell Rivers Theater with the Closing Night film "Cop Secret" (2021), an Icelandic action comedy, and its annual audience film awards soiree.
OUTrageous, OUTspoken, and OUTstanding, the 24th annual OUTshine Film Festival Miami is presented by Lexus, Gilead and Miami-Dade County.
Tickets start at $8 for individual films with group discounts and additional offers available. For more information, films line-up and tickets for the 24th annual OUTshine LGBTQ+ Film Festival Miami, call (877) 766-8156 or visit outshinefilm.com. A full schedule of parties and special events will be available at outshinefilm.com/events.