/macroimage "E_Icon_Obliteration" Sisterhood enterbasefrompasscode SONSV-1670
Saturday, 06/05/2021-, 08:00 pm-09:00 pm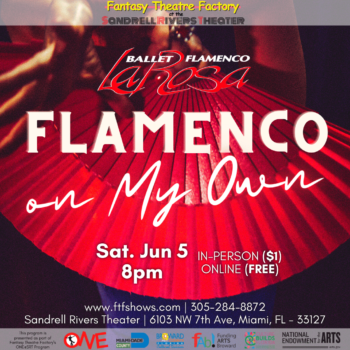 Sandrell Rivers Theater
6103 NW 7th Ave,
Miami, Florida, 33127
Buy Tickets
Cost: $1
Requiring social distancing? YES
Requiring masks? YES
Providing hand sanitizer? YES
Join us for a one-person show featuring the Flamenco work of Ilisa Rosal! Choreographed and Directed by Ilisa Rosal in collaboration with Melissa Cruz. Original and traditional Flamenco music composed and arranged by Jose Luis. This Stage-To-Screen show will premiere at the Sandrell Rivers Theater while simultaneously simulcasting on Facebook & YouTube.
Parking Garage- 6104 NW 6th Ct. Miami, FL 33127
Covid-19 Protocol & Practices: The use of face coverings and the practice of social distancing are required for all individuals.
Sponsors: This program was made possible with the support of the Miami-Dade County Department of Cultural Affairs and the Cultural Affairs Council, the Miami-Dade County Mayor and Board of County Commissioners, the Broward County Cultural Division, Funding Arts Broward, sponsored in part by the State of Florida, Department of State, Division of Cultural Affairs and the Florida Council on Arts and Culture, and the National Endowment for the Arts.