Lips' "Night of Stars" is the Official SMART Ride Kick-Off Fundraiser
Thursday, 03/05/2020 – 07:00 pm –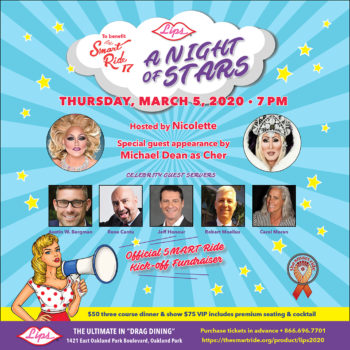 Lips Fort Lauderdale
1421 E Oakland Park Blvd,
Fort Lauderdale, Florida 33334
RSVP / Register
Cost: $50- $75
Lips, the ultimate in drag dining, will once again present "A Night of Stars," as the official kick-off fundraiser for the annual SMART Ride (Southern Most AIDS/HIV Ride 2020), a 165 Mile bicycle ride from Miami to Key West planned for this November.
Five celebrity guest servers will be dishing out great food and fun alongside Lips' very own cast of characters as SMART Ride supporters are dazzled by divas. Chosen for their commitment to the annual bicycling event, Austin Bergman, Rene Cantu, Jeff Honour, Robert Moelius and Carol Moran will camp it up table by table to earn extra tips for the cause.
Lips will present it popular divas impersonator show with witty mistress of ceremonies Nicolette, who regularly hosts every Thursday and Friday nights plus Sunday brunches. Lips leading ladies will entertain as Aretha Franklin, Reba McEntire, Rihanna and Pink with a special guest appearance by Michael Dean as Cher.
Reservations are required for Lips' "A Night of Stars" to benefit SMART Ride. Tickets are $50 per person, which includes a three-course dinner with soft drinks, gratuity and the show cover charge. A $75 VIP level enjoys the same, plus premium seating and one complimentary drink.
To reserve your seats for Lips' "A Night of Stars" in support of SMART Ride, please call SMART Ride at (866) 696-7701 or visit www.thesmartride.org/product.stars2019/.