Art in the Garden "Bird Call" Exhibition on Display at Shops at Merrick Park
Saturday, 10/12/2019 – 06:00 pm – 10:00 pm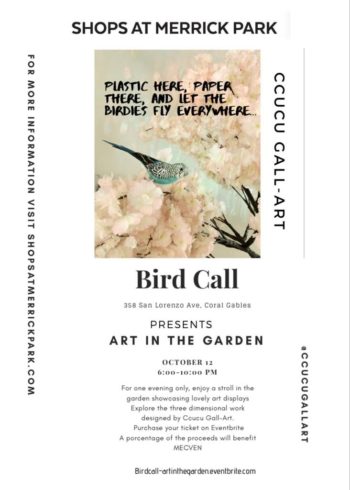 Shops at Merrick Park
350 San Lorenzo Avenue,
Fort Lauderdale, Florida 33146
Eventbrite
Cost: $10 for adults and $8 for children
Shops at Merrick Park will be the perfect backdrop for a one-night only Art in the Garden installation entitled "Bird Call" which includes three-dimensional works curated by Ccucu Gall-Art on Saturday, October 12, from 6 to 10 p.m. A portion of the proceeds will benefit MECVEN, a non-profit museum for the endowments of the arts.
This exhibition will include artworks from a variety of top artists dedicated to inspiring change and awareness in Miami and around the world. The experience will include wine and food sampling.
Tickets are available at https://birdcall-artinthegarden.eventbrite.com/, priced at $10 for adults and $8 for children, including one drink and food samplings.
Ccucu Gall-Art, a Miami based art gallery, started operations in 2013. Since then, aiming to make a constructive contribution to the world by creating art exhibitions and installations with three-dimensional work to bring awareness on the preservation of Earth has led Ccucu to have magnified the art scene with pop-up art events throughout the city.
For more information about Shops at Merrick Park, call (305) 529-0200, visit us online at www.shopsatmerrickpark.com or follow Shops at Merrick Park on Facebook at www.facebook.com/shopsatmerrickpark.