Wynwood Life
Friday, April 24: 5:00pm – Midnight
Saturday, April 25: 12:00pm – Midnight
Sunday, April 26: 12:00pm – 9:00pm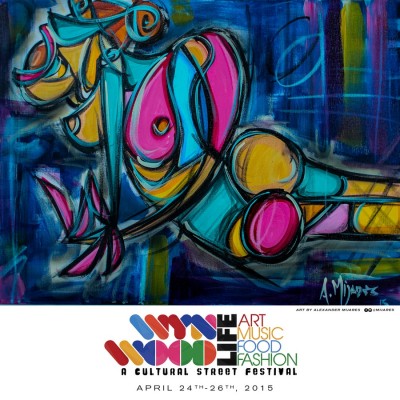 Wynwood Arts District
NW 2nd Avenue and 23rd Street
Wynwood, Florida 33127
Webpage Link
Tickets start at $15. Pre-purchase tickets online, or by calling (305)461-2700.
Street Festival Brings The Best of Wynwood to Life!
Wynwood Life is back and packed with everything that Miami loves. The colorful, annual event is all about art, music, fashion and food. This year's new location will feature more artists, fashion shows, art displays, musical bands, interactive features and a new collaborative cooking showcase that will highlight popular Wynwood restaurants and chefs.
A wide selection of featured artists will be organized by world renowned painter Alexander Mijares, who will also design the festival's 2015 collective poster. For the first time ever, Mijares will have a pop-up gallery showcasing his unique style of art, which finds inspiration in the colorful energy of both this city and heritage. "It's unusual to have an artist of his caliber showcasing at a festival. Wynwood Life is a great place to see him in action, and while you're there, be sure to pick up an original work of art," said Javi Zayas, co-founder of SWARM, the organizer behind the festival.
The Peroni Style Lounge will once again feature fashionistas at their pop-up boutique, and during the event, it will showcase multiple fashion shows with local boutiques, fashion bloggers and stylists.
It wouldn't be Wynwood without Food Trucks, so the festival will have the biggest food truck rally ever with over 50 favorites and a number of food vendors ready to please all taste buds. In addition, the event has partnered with Wynwood neighbor, Miami Club Rum. Several bars will be equipped with the hand-crafted rum made in Miami's first distillery by artisans with a family history of rum production that dates back five generations. Beer lovers rejoice! The Blue Moon Brew Pub will be back with a fully stocked selection of cold brews and mixed drinks. New this year is the Wynwood Culinary Showcase, which will feature top restaurants and chefs from the area showcasing their cuisine. Wynwood Life is sponsored by Miami Club Rum
This year's musical line-up is bigger and better, featuring many local favorites including Problem Kidz, Spam Allstar, Suenalo, The Tremends, Danger Flow and Elastic Bond to name a few. For a complete schedule of performances, click on Live Music at www.WynwoodLife.com.