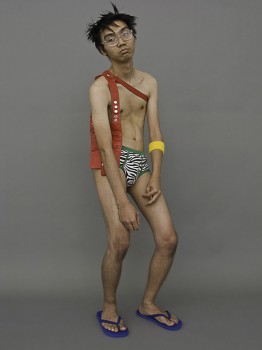 Ricardo E. Zulueta "Domesticated Homosapiens in Traditional Costume Circa Twenty-first Century
Saturday, November 13, 2010, 6pm to 10pm
Wynwood Project Space
Wynwood Project Space
2200A NW 2nd Avenue
Miami, FL 33127
www.as.miami.edu/art
UM Presents Ricardo E. Zulueta
"Domesticated Homosapiens in Traditional Costume Circa Twenty-first Century"
The Department of Art and Art History, in the College of Arts and Sciences at UM, presents a solo exhibition by Ricardo Estanislao Zulueta on view all November. The exhibition features Zulueta's impressive digital performance categorization project of over 35 images which address the social practice of consumerism in an era of globalization.
Zulueta's interdisciplinary exhibition titled Domesticated Homosapiens in Traditional Costume Circa Twenty-First Century includes a diverse cross-section of participants typically marginalized from mainstream advertising that Zulueta directs in order to create a digital record of a pseudo anthropological ethnography study. The concept deals with expanding the tradition of photographic categorization projects of the past by documenting relevant social practice today. Berta Sichel, Curator at the Museo Nacional Centro de Arte Reina Sofia in Madrid has written about the series, " …this project is contemporary and its contemporaneity is due to Zulueta's ability to tap into issues that are current and relevant in how they address social practice".
Zulueta has exhibited extensively nationally and internationally at such venues as the International Center for Photography, Smithsonian Institution and the Centro Reina Sofia in Madrid. He has been awarded fellowships from the New York Foundation for the Arts, Cintas Foundation and National Foundation for Advancement in the Arts.
A full schedule of exhibitions can be viewed at www.as.miami.edu/art . For more information about the exhibition or Wynwood Project Space, call (305) 284-2543 or email m.cardoso1@miami.edu .