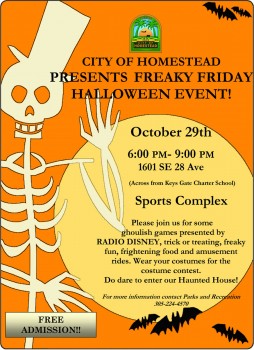 City of Homestead "Freaky Friday"
10/29/10, 6pm – 9pm
Homestead Sports Complex
1601 S.E. 28th Ave
Homestead, FL 33035
Across the street from Keys Gate Charter School
www.cityofhomestead.com
Come out and join us for the City of Homestead's "Freaky Friday" event held at the Homestead Sports Complex.
Fun for the whole family!!
Radio Disney will be there for the kids! Rides, food, & entertainment!
Enter our haunted house if you DARE!
Thank you for using Soul Of Miami!