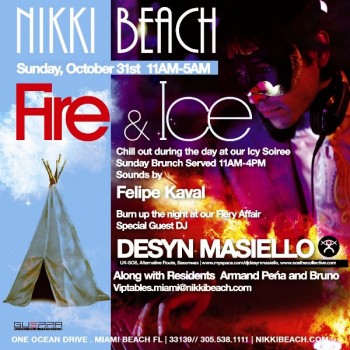 Fire & Ice – Halloween at Nikki Beach Miami
Sunday, October 31st From 11AM-5AM
Nikki Beach Miami
One Ocean Drive
Miami Beach Florida 33139
www.nikkibeach.com
The ultimate Heaven and Hell party will be happening at Nikki Beach this Halloween! Chill out during the day at our Icy Soiree. Sunday Brunch Served 11AM-4PM with sounds by Felipe Kaval. Burn up the night at our Fiery Affair with Special Guest DJ Desyn Masiello, Alongside Residents Armand Peña and Bruno!
Fire & Ice at Nikki Beach for Halloween
Chill by day and burn up the night, Nikki Beach hosts the ultimate Heaven and Hell party for Halloween.
Masquerade soirée at O1 with special DJ Irie
Nikki Beach Miami goes white ice by day and red hot by night for Halloween this year. During our world famous Sunday brunch, guests will enjoy a chilling, magical décor inspired by a winter wonderland where snow angels will perform to the sounds of world famous DJ Felipe Kaval. Featuring cool elements such as ice carvings, snowflakes and winter angels, guests will be transported into a surreal heavenly atmosphere until 7PM when all hell breaks loose. Special guest DJ Desyn Masiello and resident DJs Armand Pena and Bruno will take over to melt the ice and bring the red hot heat. As the sun sets and darkness unveils, angels will turn into demons and the snow will disappear to make way for the flames of hell. Guests will be entranced by the torrid fire dances and surrounded by endless alluring temptations.
From 11 PM to 5 AM, head to the upstairs Club O1 celebrating its hotly anticipated re-opening with a glamorous masquerade themed soiree featuring the scorching beats of special guest DJ Irie. The classic cabaret style décor of O1 will be transformed into a haunted mansion for the occasion and special performances by burlesque dancers with a fully costumed greeter will dazzle the senses. Private tables and ultimate VIP experience are available. The evening will also feature a unique surprise performance. This exclusive and exciting event is not to be missed. For more information and to make reservations, please visit http://www.nikkibeach.com/miami/events.php.