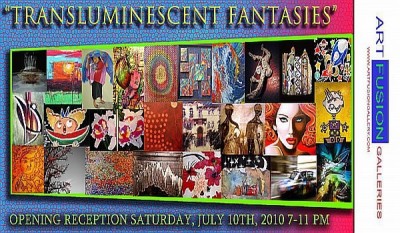 Transluminescent Fantasies Opening Receptio
Saturday, July 10, 7P-11P
Art Fusion Gallery
Miami Design Distrcit
1 NE 40 Street, Suites 3, 6 & 7
Miami, FL 33137
GusColors has been selected by the Art Fusion Gallery jury to participate in their summer exhibition, Transluminescent Fantasies. This exhibition will feature 32 emerging to mid-career contemporary artists from across the globe. The opening reception for the summer exhibition is Saturday, July 10 from 7P-11P.
GusColors captures the energy and vibrance of his Miami lifestyle. He transforms real life into a playful and rambunctious form. His summer long exhibition at Art Fusion Gallery starts July 2 – September 22.
For more information on GusColors, visit the GusColors webpage – www.guscolors.com or email splash@guscolors.com
Visit the Art Fusion Gallery website for more information on Transluminescent Fantasies – www.artfusiongallery.com or email info@artfusiongallery.com.