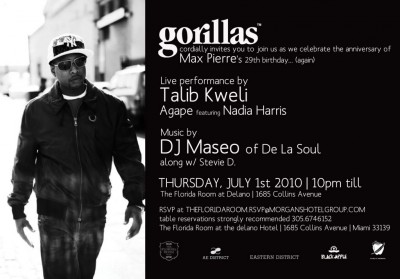 The Green Room Society of the Adrienne Arsht Center for the Performing Arts of Miami-Dade County and Gorillas invite you to come celebrate GRS Chairman, Max Pierre's 29th Birthday (again)!
Thursday, July 1, 2010 at 10PM
The Florida Room at Delano Hotel
With special live performances by Talib Kweli
Agape featuring Nadia Harris
RSVP is required for this event. RSVP to greenroom@arshtcenter.org or call 786.468.2040.
Also on the turn tables will be DJ Maseo of the world famous group, De La Soul.
Special Open Bar for GRS Members only from 10-11PM.
Not a GRS Member? What are you waiting for? Join the GRS Family today!
The Green Room Society (GRS) is the Adrienne Arsht Center for the Performing Arts' young patron's membership group and I'm the proud Chairman for 2 years now. GRS members are shaping Miami's growing cultural landscape and are dedicated to developing and educating audiences while building a legacy of philanthropic support for the Center. GRS draws its membership from a diverse group of individuals (under forty five years old) who cultivate an interest in the performing arts. Members make annual contributions of $250 or more, enjoying numerous benefits which include advance notice and early buying privileges for performances and special events, behind-the-scenes tours, invitations to exclusive GRS events and educational seminars throughout the year. GRS membership offers an extraordinary opportunity to socialize and meet like-minded, individuals who support the Center's goals.
JOIN NOW! Click here to join online or call Esther Park, Membership Manager, at 786-468.2259.