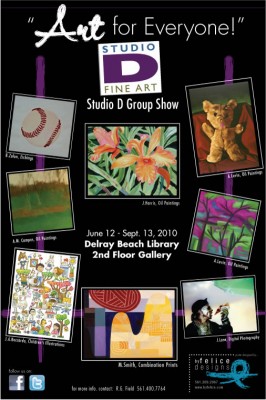 Art For Everyone!
June 11 through Sept. 13, 2010, M-W 9am-8pm / TH-SAT 9am-5pm
Delray Beach Public Library (Downtown)
100 W. Atlantic Ave.
Delray Beach, FL 33444
Facebook page.
Studio D Fine Art and The Delray Beach Public Library is proud to present a new art exhibit entitled: "Art for Everyone!" It is on display at the 2nd floor Gallery from June 11, 2010 through September 13, 2010. This unique exhibit features artists from Studio D Fine Art, an artist collective that strives to bring a variety of unique artwork, in diverse mediums to suit any individuals taste and décor.
From classic to contemporary, and from soothing to edgy, they offer an opportunity to own artwork that will beautify your daily surroundings, and create a richer atmosphere. Representing works by a variety of local artists their work represents many unique and diverse mediums including digital art, etchings, mixed media, water color, oil paintings , acrylics, works in charcoal and in pastel. Local artists Jeff Harris, Deerfield Beach and Johanna Boccardo, Miami are featured along with 6 additional artists. Art from classic tropical florals to edgy abstracts, sports-balls to teddy bears, this is really a show with art for everyone!
This is a free event. A percent of all purchases are contributed to the library.