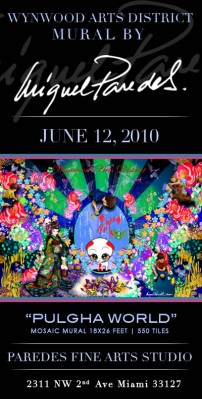 Pop artist & urban impressionist Miguel Paredes
"Pulgha World" Mosaic Mural Unveiling at Wynwood Art District, FL
Date: Saturday, June 12, 2010 during Wynwood's 2nd Saturday Art Walk
Time: 7:00 p.m. – 10:00 p.m.
Location: 2311 NW 2nd Ave. Miami, FL. 33127
Facebook Invite
Acclaimed Miami-based pop artist and urban impressionist, Miguel Paredes, is gearing up for a busy season throughout the remainder of 2010. His most recent solo exhibition, The Manifestation of Cross-Over Art, opened to rave reviews during last year's Art Basel Miami Beach and since then has garnered the artist much attention in local, national and international levels. Paredes' first artistic endeavor begins this upcoming weekend during Wynwood's "2nd Saturdays" Art Walk on June 12, 2010.
The mural features Paredes' iconic diminutive anime flea "Pulgha" and boasts multiple, vibrant flowers as well as the artist's signature graffiti work. Paredes' rebellious characters from his Los Niños collection are also featured on the 18 X 26 mosaic mural. "Pulgha World" is made up of 550 tiles and is set to add a playful splash of color to the urban streets of Wynwood. In addition, this mural will also serve as a preview to the artist's private gallery located in the same street and opening later this summer.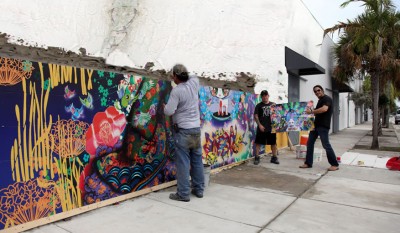 "Pulgha World" has been in production for the past couple of weeks. Paredes has already received positive feedback from neighboring galleries and artists who are pleased with the work in progress as it is something that Wynwood hasn't seen before. Locals are happy to have such a large piece of colorful artwork displayed in the bourgeoning area.
Paredes, a New York native, combines cutting-edge styles of street art, pop art and Japanese animation to create distinct, trend-forward pieces. Drawing inspiration from pop icons such as Andy Warhol and Keith Haring, he has created his own niche of street graffiti, landscape and pop art affording him the ability to singlehandedly crossover from street walls to creating decorative art. Over the years, Paredes took the Miami Beach art scene by storm, selling out numerous venues to become one of the most prosperous local artists. Paredes, who has been Miami Beach based for over two decades, acquired a private studio space on Lincoln Road to further expand his inspirational environment while simultaneously showcasing his works at local, national and international shows such as Art Basel.
For more information on Miguel Paredes, please visit: www.miguelparedes.com.