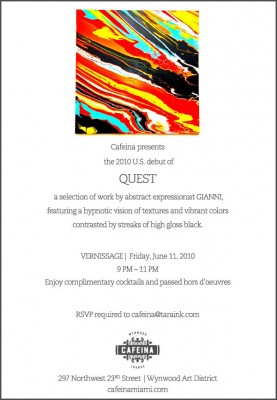 L.A. Artist Gianni Makes 2010 U.S. Debut Of Quest Exhibition With Vernissage At Cafeina
Sneak Preview:
Friday, June 11, 2010
9:00 p.m. to 11:00 p.m.
RSVP required to cafeina@taraink.com
Cafeina
297 Northwest 23rd Street
Miami, FL 33137
Saturday, June 12 through Saturday, July 3, 2010
6:00 p.m. to midnight, and also by appointment at GIANNI@ArtByGianni.com.
Burgeoning Wynwood hotspot Cafeina is pleased to announce the 2010 U.S. artistic debut by Los Angeles artist GIANNI. The installation, titled QUEST, will showcase a collection of work in his signature style of abstract expressionism, a hypnotic vision of textures and vibrant colors contrasted by streaks of high gloss black. Cafeina will host a sneak preview of GIANNI's work in its 1,000-square-foot art gallery on Friday, June 11 at 9 PM. GIANNI's exhibition will officially open to the public during the Wynwood Art Walk on Saturday, June 12 and it will run through July 3, 2010.
Once his carefully selected pallet and mood is decided, GIANNI maneuvers these colors and controls their every movement and composition scrupulously. Time is of the essence as he tries to evoke his immediate feelings. He moves swiftly and uses gravity to his advantage. After having poured paint in precise locations and in conscientious amounts, GIANNI meticulously manipulates the canvas around with vigorous movement until the desired effect is achieved.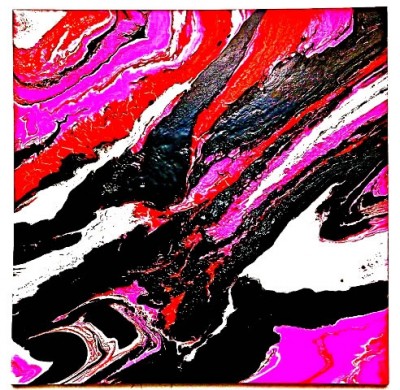 A modern day "Renaissance Man," GIANNI experimented with various forms of artistic expression before discovering art. He began his journey in front of the camera lens at the age of sixteen as a model in Canada and later Europe, he would return to the U.S. to pursue acting before ultimately finding himself back in Los Angeles in front of a blank canvas.
GIANNI then embarked on a quest to discover what genuinely gave him a sense of accomplishment and found that the answer would lead him to the inspiration and title of his 2010 installation. During the last year, GIANNI took possession of an NY-style studio in the heart of Hollywood and has since focused all of his energy into creating a series of paintings that represent his voyage to art and self discovery. "This expeditious process has left me emotionally depleted, all that's left is the physical manifestation of an immortalized 'emotion' and 'moment' in time," says GIANNI.
For more information please visit www.ArtByGianni.com or contact GIANNI@ArtByGianni.com.
Cafeina is a multi-room, restaurant-lounge-art gallery with a lush outdoor garden. It is located at 297 Northwest 23rd Street in the Miami Wynwood Art District. The kitchen, led by Executive Chef Guily Booth, offers light bites including Miniature Kobe Burgers ($11), Crab Cakes ($13) and Oriental Salmon Tartar ($13), and is open Wednesday through Saturday 6:00 p.m. to midnight; the bar is open until 3:00 a.m. Complimentary valet parking is available. For more information, please call 305.438.0792.